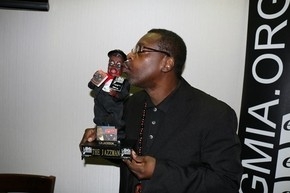 Hey folks and welcome back to another edition of NOTES FROM THE SOUND TABLE!! It's been really busy lately – as you can see in the picture, I got a special gift from my friends at the Georgia Music Industry Association, www.gmia.org, plus we just had a FANTABULOUS MUSICOLOGY 2101 book signing/birthday/Anything But Monday/Mirosa Beer bash on August 30, with great folks stopping by to hang out and perform, like Peach City Records artist development story of the year, ONNY! You can check out "just a few" pix at www.facebook/damusicmon and there's more stuff ahead!
We are now plugged into Internet radio shows at www.rawtruthradio.net and also another one at www.spreaker.com/user/6249574. These shows feature informative interviews with music greats like Ruffhouse Records' Stephen Stone, Reggae Legend Fitzroy Francis, So So Def's Sir Rod Patterson, Chris Jasper of The Isley Brothers and Isley/Jasper/Isley, with upcoming shows featuring folks like Full Force's Bowlegged Lou, Paul Anthony, Dance Queen Sharon Brown, Arrested Development's Speech and Eshe, DJ Syntronic along with Atlanta Hip-Hop Godfathers Raheem The Dream, MC Shy D and plenty more!
Atlanta is a great place to live and if you haven't made it here yet to visit, we'd love to host your next trip. There are plenty of places to see, so make it a plan to roll through and look us up sometime! We have a huge party planned on September 14 in case you'd like to see some top Atlanta up-and-comers like EXPOSER 3 artists KIMOSHA LETOI (R&B), ELLIOT HOLDEN (URBAN GUITAR LEGEND), KENDRA KING (R&B/DANCE), LION TAFARI (REGGAE), TERRI CARROL (GOSPEL), BAYBEE STRANGE (HIP-HOP), DOJA (ALTERNATIVE), WARREN J (REGGAE/R&B). There will also be music blends from the World Famous DJ MIKE, and special guest performers like ZOE (R&B/HIP-HOP), HEIDI G6 FLY (HIP-ROCK), SIMON STONE (EXPERIMENTAL HIP-HOP), TRU IMAGE (HIP-HOP) and my man O GIZZLE (HIP HOP).
So when you want to get 'exposed' to the latest and greatest in sights and sounds, make Atlanta a destination on your itinerary and you won't go wrong! On the global front, please check out the music of my musical family, Andrew Bees (now on tour with Reggae legends Black Uhuru); Chyna Nicole holds her own and through folks like the highly respected Fitzroy Francis (just did a show with Dancehall Emperor Shabba Ranks), has a few collaborations that have been manifested. We've got more collabs in place with Andrew Bees, Chyna Nicole, Joe Black aka Splifferman and Def Jam's FIRST R&B act, Tashan!!
For more info on picking up the most important music history book of the new millennium, MUSICOLOGY 2101: A Quick Start Guide to Music "Biz" History, as well as the latest info on Atlanta's goings on, contact me at mkmmmw@gmail.com. As always, THANKS for your support and we'll catch up with you next month!!
PICTURE – ME AND MINI MUSICOLOGY ME
VIDEO – ONNY sings REAL LUV – http://www.youtube.com/watch?v=B8TCqc7wU6A
MUSIC – http://www.spreaker.com/user/6249574/show_10_1_reggae_legend_fitzroy_francis
LA Jackson – mkmmmw@gmail.com