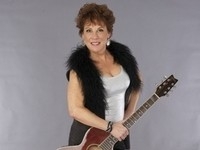 About the Artist: This is Miss Amy's latest release "Angels Riding Shotgun" showcases how versatile her/their talents are. To me this 12 song set shares a rich collection of songs no doubt inspired by Miss Amy's connection with a belief that we're all a part of a universal family. The band members experience ranges from being opening acts for Marshall Tucker, Los Lonely Boys, to recording with Bernie Worell, Richie Cole and Grover Washington Jr., to performing with the Delaware Symphony, New Jersey Philharmonic and backing the Moody Blues. Miss Amy: GRAMMY ® Nominated Artist, featured on another nominated project and on a winning album, Songstress & Good-times Ringleader. Do I have your attention yet? As the CD began to spin beneath her vocals lie deep band arrangements with a sweet female vocal front, crisp horns and vintage keyboards/piano that maintain the album's rich, organic feel. The tasteful guitar work shines brightly throughout. "Angels Riding Shotgun" which features inspired performances from a host of A-list musicians gets off to a good start. I have to say I was extremely impressed with the opening 3 tracks "Off the Map", title track and "Merlin's Curse". All 3 songs made quite the first impression on me as each one possessed my full unadulterated attention eager for what was ahead. To be honest: I expected cheesy throw back Rock that was extremely predictable and shallow in nature — very compatible for an older mass audience. Well shame on me because what I discovered was actually quite the opposite. The whole CD is wonderfully conservative yet full of what I would call powerful energy with music that appeals to so many different senses on so many different levels. It reminds me of Shawn Colvin, Susan Tedeschi, Delbert McClinton and a little vintage Little Feat. I can also hear the slight Alternative Rock, Bluesy-Rock influence in there as well like Lenny Kravitz, and Raphel Saadiq. What I really like about Miss Amy and the gang is there is no attempt to sugar coat the truth or deliver what I call over the top rock, cheezy music with good looking singing head via top flight sampling, cookie cutter songwriting via a mix that sounds more like a commercial than a piece of music.   Whether it's musically, lyrically, inspirationally, emotionally, spiritually — Angels Riding Shotgun pretty much covers it all.  
Official URL: http://www.offthemapband.com
Favorite Tracks: title track, All About the Movement, Traveler, Merlin's Curse
Conclusion: Miss Amy affirmed my faith in good music again. She's a unique, hard working artist that knows his way around a stage, a studio, a catchy song and a fun loving crowd of music fans. Off the Map with Miss Amy represents all that is good in music and her latest CD "Angels Riding Shotgun" delivers a highly passionate, fully loaded catalog of music via rock solid musicianship, entertaining songs and music that covers all the bases: Rock, Blues, Indy Rock-Pop. It's pretty much off the map!
Final Rating:   4.5/5 Stars
Hear the music:
https://itunes.apple.com/us/artist/off-the-map-with-miss-amy/id622830320
Written by Michael Keith edited by Heather Savage
Review comments to: heathresavage5@gmail.com