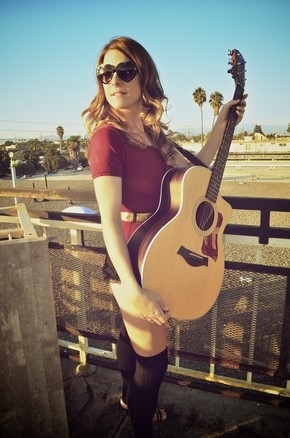 Hello world, pleasure that we meet again. Before we begin I want to acknowledge a man who is not in the music biz but his story is inspiring. Jim Koch, the founder of Sam Adams became a billionaire on September 10. The $$ is cool but what I love is how he said, "I started this 30 years ago in my kitchen" Koch told the Boston Herald. Think about that for a minute how success is not a quick fix and it takes time, patience, and a love & passion for your craft whether beer or music. My guest today has an incredible passion for music and life. Debbie Goodman started in Nashville and headed west to LA and has never looked back. I got my hands on a 3 song EP Debbie has out and it is catchy, exciting, and very real. I am so excited to introduce Debbie Goodman as we talk about family support, moving to LA, losing her sister, and so much more!
Stoli: How is your summer going and have you been able to get away for some R&R?
 
YES!   My summer has been awesome and exciting, full of new "doors" to open.   As far as R&R, I went to the High Sierra Music Festival in Northern Cal a few months ago, and I just got back from the Outside Lands Music Festival, which is in Golden Gate Park in San Fran.   Festies are such an inspiration for a performer.   I always come back refreshed and ready to move forward with my music.   I can't say that I "Rest" much when I'm there, but it's definitely my way of getting away!
Stoli: I just liked you on Facebook – facebook.com/DebbieGoodmanMusic. How much do you post on there and how much time per week is devoted to social media?
 
I am a HUGE facebooker.   That's where I push all of my shows – in your face, all the time – haha.   My own web site is in construction as we speak.   I feel like I'm on the computer ALL the time – it can be time consuming, always submitting myself for opportunities and updating all my fans, but the Internet is where I find almost every opportunity now days, so, "worth it!"   One day I'll hire someone to do all of my online stuff, and that's something that I will NOT miss doing on my own – kind of like housework – which I already hire someone else to do! – so hey, I'm halfway there!
Stoli: I find your look to be sexy & intriguing. Would you consider yourself to be conservative or willing to take risks with your image?
 
Never conservative!   If you peep my latest album cover, entitled Blame LA, you'll see a lot of skin!   The entire photo shoot is on my facebook, and it was shot on the roof of my building by my friends at Freak the Mighty Photography.   They are some hot, hip, push-the-envelope kind of kids, and they're shooting my next acoustic album as well.   I also modeled for a recent RodeOh panty ad for them, if that tells you anything about my uh, lack of modesty!
Stoli: You sang in Nashville before moving to LA. What does LA offer you as a musician that Nashville could not and do you ever go back and visit?
 
When I sang in Nashville, I was honestly accepted with warm, southern hospitality right away.   I think that musically, I could have done a lot there, and I got that feeling instantly, with the opportunities that hit me even just my first time there.   However, we, me and my drummer, who is also my man of 14 years (and my roadie, breadwinner, hugest fan, etc) are some pretty liberal, hippie individuals.   Nashville seemed quite the other vibe.   I had my first meeting with Paul Pace, when I was working Music Row, and I indicated that I wasn't "feeling" Nashville, and he immediately said LA.   We were there within a month!   So LA offers me a progressive living environment, as well as musical opportunity.   But, I lived in Tennessee for almost 10 years, and I have a ton of friends there because of it, so of course I go back.   I've also been to 10 of the Bonnaroo Music Festivals in Tennessee!   The next time I go, though, I'll be on the bill, baby!
Stoli: Would you say that your friends and family have been supportive and excited about your music ambitions?
My family is completely supportive of whatever I do.   They just want me to be happy.   My mom is my biggest supporter (and so was my dad, who died of cancer last year).   My entire family is in Oklahoma, and I moved away to pursue my dreams right out of college.   So that's stressful because they miss me A LOT, but I've written songs about all of them, so I think that makes them feel a part of the journey.   My mom comes to California for weeks at a time, and lives for seeing me perform out here.   She's the one I call to brag about everything.   Music has been such a long   process of learning and moving forward in my life, so I feel like that by now, everyone has just gotten used to the fact that this is my life, this is what I do.
Stoli: I am listening to your three song EP now and I really like it. How long did you work on that and where can readers grab a copy?
 
You're listening to my first, self-titled album.   I had just moved to Cali, and this took about a year to finance and complete with my first producer.   You can buy that, and all of my music on iTunes at http://www.itunes.com/DebbieGoodman .
Stoli: I feel like the more people can relate to you the better. What real life experience did you go through that you put into a song and what single is that?
 
I lost my big sister to suicide about 5 years ago, right before I moved to LA.   This was my first big loss, and it really took a toll on me and on my family.   I'm a hugely optimistic, happy-go-lucky person, and this was something that I couldn't just shrug off and smile about.   I had to drag myself head on through the grief process, and it was something that I really fought at first because being sad/mad/depressed just wasn't me.   A lot of my self-therapy was writing songs about it, and my single Beautiful Girl came out of that experience.   I wrote it after finally feeling some peace and acceptance about her death for the first time, so I kept the song up-beat and hopeful.   Beautiful Girl plays in a LOT of stores right now like Walmart, Walgreens, CVS and Ralphs Grocery, so listen out for it!
Stoli: You play the top venues from Santa Monica to Dalton, GA. What is it about playing live that you enjoy the most and any plans to come to the east coast?
 
OMG, playing live is SUCH a rush!   It's incredible how it makes you feel, with NO hangover!   We sort of broke up with the Bonnaroo Music Festival in Manchester, Tennessee last year – because they're getting so big and unaccommodating for campers, and they search you every time you turn around now – and that was what used to bring us to the east coast every summer.   We would always do a few shows while we were in town.   I can't say that we won't bite the bullet and go back though – I'm sort of addicted to festivals – but like I said, I want to be playing 'roo the next time I head that way.
Stoli: Name two female musicians who came before you that inspired you and what did you learn from watching them from afar?
 
Sarah McLachlan has that beautifully haunting voice that just wraps your soul in comfort and never gets old.   I also put her in that category with Tori Amos, where they never really sold out or went commercial with their stuff, but they have this huge, loyal following.   I love that about them.   Pink is also an artist that showed me to just freakin' be yourself, and it will be awesome.   All of my songs come from personal experience like that, and some people are like, "you shouldn't open up so much, or tell your business like that in a song", and I'm like, "what else would I sing about?"   It's my life experiences; it's what I know.   And I'm not ashamed of anything.   Plus, it's like therapy to me, to write a song about someone I've lost, or about someone who has pissed me off, so I gain something, too!
Debbie Goodman's "Beautiful Girl"
http://youtu.be/7AF0DctSCiU
Stoli: Unemployment for teens and college grads is at an all time high but the government wants to open the borders and offer amnesty to illegals. Do you ever get the feeling the US government does not care about it's own people and serves a secret agenda?
 
First of all, most politicians serve their own agenda, and it's all too often all about money and power, instead of being about making the world a better, happier place for everyone.   I don't understand nor agree with closing borders in the first place.   If the agenda is not peaceful (and I don't mean dropping a bomb "for peace"), and if it isn't HELPFUL instead of hurtful to the environment or to people, then I'm not for it.   I'm all for finding a resolution that serves the entire world, not just American college teens.   That starts with each of us opening up our hearts and our minds in a more peaceful, and outwardly serving manor.   And, on a larger, more effective scale, it means, our politicians adopting this mindset first and foremost.
Stoli: What gets you up everyday from bed and gets you excited to create and play music?
 
I'm still baffled at the reaction that I get from people, every time I sing.   I'm really a great singer, and it's confirmed to me, each and every day.   But right now, I'm not making a living as a singer.   I wake up every day with that on my mind – how to make that change to make that happen.   Everyone deserves to make a living at what they are good at, and I deserve to sing for a living.   I am ready and open and willing to do what it takes to make that happen for myself.   And the world will not be disappointed!
Stoli: What is coming up for Debbie Goodman and where you @ online?
 
My brand new web site address is www.DebbieGoodmanMusic.com.   Follow me on facebook.com/DebbieGoodmanMusic for the most action these days – as well as upcoming west coast shows.   My band Debbie Goodman and Friends plays the famous Venice Boardwalk almost every weekend.   I'll also be in Oklahoma City, where I'm from originally, during Christmas break, so look for my feature and show announcement in the Daily Oklahoman if you're in the middle of the country!   Shoot man, I hope to be on the summer festival circuit, and making a modest living as a singer, coming up, hollah!
 
https://www.facebook.com/DebbieGoodmanMusic
https://www.DebbieGoodmanMusic.com
https://www.itunes.com/DebbieGoodman
http://www.reverbnation.com/debbiegoodman
http://www.twitter.com/DebbieGoodman
http://www.soundcloud.com/DebbieGoodman