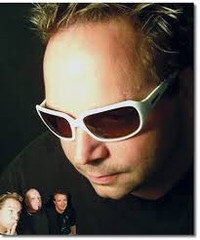 From Florida comes Alternative rocker Sounding Rick (Rick Reynolds) who just released his latest effort entitled "Never Be Famous" in 2013. Right from the start it might be easy to just categorize Rick Reynolds as a straight ahead old school rocker, and write him off as the newest trending thing down in Florida. It wouldn't be wise, though. Sure, if you listen to some of his more catchier tunes within this 15 song line-up (Made It) (Wagadoo) (Sailor) that's the impression one would likely get. However there is a method to his madness. There are some really good songs on "Never Be Famous" that step outside the traditional "flash in the pan" modern pop-rock music boundaries.   First: Reynolds can play the guitar like nobody's business. Second he recruited some of Florida's best musicians for the project as well. Thirdly Reynolds has over 30+ years of experience and a slew of albums and tours to his credit. All of the above sure go against the grain of traditional pop and as a result really open up this fully loaded album. This enhances the listening experience rather than limit it for me. Reynolds is obviously experienced at performing and writing music, but it's the combination of all of the above that makes him so deadly. I mean, there is nothing here that really seems all that original or fresh but perhaps that is why Reynolds is on our Radar screens in the first place. Forgive me if I'm talking in circles — but some bands can deliver music that's pretty straight forward, conservative and painfully simple yet brilliant in scope.   Furthermore in lieu of the amazing string of songs Reynolds delivers on Never Be Famous it almost feels as if Sounding Rick is really on to something.   Never Be Famous is a one of a kind CD from a one of a kind artist that's closely tied to classic blues-rock-soul, but has a more modern alt-rock sound. I hate to pigeonhole but I can hear the Beautiful Girls, Ash Grunwald, Xavier Rudd, John Butler trio and Blue King Brown.
Genre: Jam Band, Blues-Rock, Pop. Singer-Songwriter
URL: http://www.soundingrick.com
My top Tracks: Stay With Me, Believe, In With Kids, I Know
Sounding Rick will please a wide range of musical personalities in the process. When Never Be Famous   runs its course over one walks away felling Sounding Rick is truly something special. After doing my research I highly recommend seeing this guy play live as well.
Social Networking Links:
FACEBOOK: https://www.facebook.com/soundingrick
MY SPACE: https://myspace.com/browser
Rating: 4.5/5 Stars
Review by Joseph Crowder edited by Joshua Beach
Review comments: joshuabeach9@gmail.com