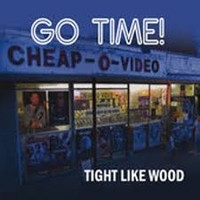 I always listen to the opening track extremely carefully. It's the opening track the band or artists has selected to hit your ears first and foremost. The opening track of this latest release by Chicago based 4 piece "Go Time" is called "The Lines Were Blurred" and it sets the stage rather well for this CD. It was a great intro piece that stuck in my head and had me eager for what lied ahead. All in all the whole CD is brilliantly delivered with a powerful raw Punk Rock, guitar driven texture with songs that at times can bite you and hit you hard with serious melodic staying power. Music will remind you of Live, The Byrds, The Minus 5, to Pearl Jam and The Smithereens. Their bio describes it best: Deeply submerged in amped up jangle and buzz, along with a healthy dose of subtle pop riffs and stream-of-consciousness transitions GO TIME recorded in their home studio for Sound Gypsy Records and Mike Hagler at King Size Sound Labs mastered the CD. Mike is known for mixing and mastering bands such as Wilco, Neko Case, The New Pornographers, The Redwalls, John Langford, The Mekons, Billy Bragg, Ezra Furman and Caliphone, just to name a few. Go Time represents a fresh new voice in modern punk rock and present a strong message that's aggressive, upbeat, highly melodic and yes in your face. "Tight Like Wood" presents a very loud, youthful and at times hot to the touch sound.   Each piece is real, not so overly- corporate sounding and very defiant in nature. Unfortunately Tight Like Wood's sound quality that reminds you of CD's released in the early 80's — a bit dated and somewhat sloppy and all over the palce dependeing on what kind of stereo system you use. Some songs sound OK others need of engineering upgrade and work. Go Time will also remind me of a variety of bands from the 80's in the hey day of the Punk Rock movement like The Clash, R.E.M. and even Talking Heads.
Overall Rating: 3/5
Band Members: Scott Niekelski – Lead Guitar and Vocals, Paul Schmidt — Guitar, Steve Grzenia — Drums, Mark Marketti – Bass
Top tracks: Writer or Slut, Unrealistic, Dead & Gone, See Alice  
If there was one word I would use to describe Go Time it would be energetic.   This CD will simply make you feel more upbeat and positive and is a real jolt to the senses.
Official URL: http://gotimeband.com
Written by Mindy McCall edited by Drew Blackwell
Review comments: indiemindymccall@gmail.com