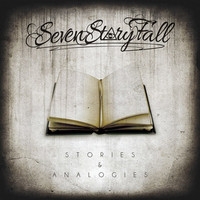 Formed in 2002, Seven Story Fall (7SF) is the brainchild of Hunter Kennedy, who picked up a six-string at 11 and wasted little time, quickly becoming a veteran of the band scene.
While going through a succession of band members, 7SF released 3 EPs that sold considerably well at the band's many live shows.
More recently signed to the Tate Music Group label, 7SF — now consisting of just Kennedy & backing members — has gone full-length with the album Stories And Analogies.
"Sing To Me" has this captivating rhythm guitar riff that I could listen to for ten minutes straight.
"Say It" expresses adolescent romantic sentiment like few other tracks I've heard.
"I'm Not Your Guy" is an interesting song in that the vocals are quite sensitive, but the guitars are ripping some hard-edged chords with mega distortion.
(full new album) stories & analogies
http://www.youtube.com/watch?v=9XhoLwd8Hvg
"Better Off On My Own" makes abundantly clear that Kennedy has a fine voice for this type of music, and he can range surprisingly high up the octave scale. Man, there's also some pounding percussion on this track! The lyrics convey a strong sense of youthful angst: "I find it hard to relate / A numbing paralyzing state / It blows my mind."
"This Town" begins on a slower note. But one can definitely feel a buildup of intensity. I love the crunchy, palm-muted chords that arrive about 1 minute in.
I suspect that the track "My Gift To You" is titled somewhat ironically: "Your voice kills my ears / And I can't stand the things you say / Or why you're a whore."
"Hollywood Bound" is a fine song title for a promising young musical act. The guitar component seems a tad more complex here than on other tracks, but it's all rendered without a hitch.
7SF well might be "bound" for Hollywood. Kennedy has his style down pat, and is fluent in the art of song-construction.
Indulge your angst at: http://www.purevolume.com/sevenstoryfall
Or savor the video component: http://youtube.com/sevenstoryfall
Ray Cavanaugh – owleyesgatsby@yahoo.com