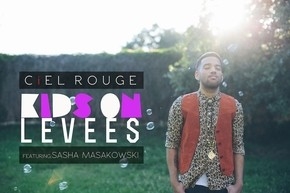 Rapper and producer Ciel Rouge announces the release of his mixtape. Showcasing musical influences from Andre 300, TalIb Kweli and Black Thought, Ciel's honest approach to music puts an emphasis on chord progression and melody, writing lyrics around those. Neglecting egoistic content, Ciel Rouge provides a relatable track in his lead single "Kids On Levees".
https://soundcloud.com/ciel-rouge/kids-on-levees
Originating from The New Orleans Bounce, Rouge's sound "shakes the listener and transports him or her into a world of bustling creativity," informs Broadwayworld.   With energetic drums and effect, heavy guitar, high lyrical values and smooth vocals, Rouge is "a breath of fresh air in the game of hip hop," states Our Stage. Drawing inspiration from Drake and John Legend, "Kids On Levees" gives off a dreamy feel with the melodic, jazzy riffs and Rouge   "spitting out rhymes like Kanye, " so Somethingyousaid,   about life post-Katrina.