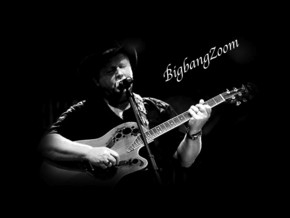 International performer and songwriter BigBangZoom isn't your run of the mill artist. A geologist by day currently living in Kuwait and rockin' the clubs at night, BBZ is rapidly becoming well known in regions most of us have never even seen outside of the news channels.
Skope: Living in the middle east and beyond seems like it would have a profound effect on your songwriting, how has it benefited you as an artist and what are you doing out there?
BigBangZoom: Yes it has, because what I have realized, is that aside from differences in our countries politics, the people living on this spinning orb are all the same at heart.   Regardless of religious   beliefs, desires for love and feelings for life and peace, cross all boarders and cultures. I am a geologist working in the oil business and have lived in 6 different countries for the past 20 years.   But thats just my day job and it pays the bills, my passion has always been for music, which is the universal language for all people regardless of which corner of earth you live!
"The Mojo Maker Man":
http://www.youtube.com/watch?v=5PZy2RZQg_c
Skope: I read in your bio that you're a self taught musician, what made you decide to become a songwriter and how did you learn to play?
BBZ: My father was a talented musician and a published songwriter, so I grew up with music and songwriting in my blood.   When he passed a few weeks after Hurricane Katrina, I believe that his soul passed through mine, giving me this creative talent that I did not realize I had before that point in time.
I first taught myself how to play harmonica so I had something to contribute to the bands I was performing in, other than vocals.   Then I bought an acoustic guitar and learned how to play chords from watching the other guitarsts in my bands.   I found a professional songwriter online who would critique my early songwriting attempts and spent about a year aggravating him until I was confident enough to go it alone!
Skope: You have a new single that's generating a buzz titled "Nobody But Me". What's it about and what inspired you to write it?
BBZ:   I was on a Skype call with my cousin and we were discussing loneliness. After that call, I spent the next 12 hrs writing and composing this song "Nobody But Me" about how loneliness can let your mind drift into an imaginary space that can bring you peace to compensate for that empty feeling. The next day it was done, from concept to completion!
Skope: Where can people hear your music?
BBZ: I am on Soundcloud.com, Jango.com, RadioAirplay.com and YouTube.com, all under my alias of Bigbangzoom, and my music/video   website is www.Bigbangzoom.info
Skope: What's life like in Kuwait, as opposed to America or England?
BBZ:   Well, the first thing is that Kuwait is a dry country, so no alcohol and also no public live music or public dancing.   So if you want to hear live music or dance to live music, you need to go to an underground party or a private club party.   This is where I would play with my band in Kuwait and more importantly we would play for the soldiers at the military bases.
Skope: How did growing up in New Orleans affect the way you hear music?
BBZ: I hear a combination of jazz, blues and funk in almost everything I compose along with a strong adult contemporary vibe from the late 60's and early 70's.   I have always been drawn to acoustic over electric, because to me, the message of the lyric resonates with the acoustic strings.
Skope: What kind of studio setup do you use to record? What software do you use?
BBZ:   I am currently recording on an IMac workstation, with GarageBand software. I use an Allen Heath mixer to interface with my instruments: Ovation acoustic, Gibson ES-339 electric and Yamaha PSR-S910 Arranger Keyboard as my main Instruments with a Shure KSM44A condenser microphone for recording vocals.
Skope: I read that you have also lived in Indonesia? What was that experience like and how did you end up there? Will you tell us about the Tiger Kings?
BBZ: The Tiger Kings were 4 musicians, two Americans and two Indonesians at the core of the group, but we also had several other amazing musicians join us during the 3 years we were playing.   We played several covers at our gigs, but half of our songs were originals that we composed during rehearsals.   This was a very tight group and we were asked several times to open for Indonesian Headliners that were playing in our area.   This was a fantastic time for me, because I was now playing guitar in the band and best of all, I also met my wife there! Once again, my job brought me to this exotic place that was rich in culture, abounding with friendly people and the music scene throughout the country was simply amazing!
Skope: You played in The Human Shields for the troops in Kuwait around the beginning of the invasion in 2003, what were the conditions like over there back then and how has anything changed or progressed since then?
BBZ:   Kuwait was filled with US and other military forces at that time operating out of several bases across the country. There was the constant presence of convoys of tanks and armed vehicles on the roads and helicopters overhead. Now, its not like that. But, I will always feel very privileged to have entertained the troops during that time.   The Human Shields were an amazing group of talented musicians, there were 7 of us, from 5 different countries; America, Kuwait, Armenia, India and South Africa.
Skope: As both a geologist and songwriter, how do you balance the two and still maintain focus? Has geology had any influence on the way you write or structure songs in any way?
BBZ: It's funny you should ask that, because geology combines a mix of science and imagination, turning data into an unseen environment. Songwriting is very similar in the way you compose the musical data to give you the mood and imagination to write the lyrics.
Skope: You get alot of plays on your SoundCloud pages, do you have any specific audience in mind when you write your songs and how would you classify your music?
BBZ:   I write for myself, but judging from the songs that get the most plays, I am narrowing my style to an acoustic Adult Contemporary style. However, I still plan to use a mixture of jazz, blues and southern rock within that genre to keep it uniquely me.
Skope: You've been getting your songs published and picked up by reps for some very cool television and film opportunities, how did that come about?
BBZ:   Music Xray is a very good site that I use, where artists can submit their music to A&R reps for matching opportunities.   I highly recommend this given my successful submissions so far!
Skope: Any plans to release a full length album or do you just record when you get the inspiration to?
BBZ: I am enjoying the creative outlet of songwriting for now, but perhaps one day that could change. If I continue to get the positive feedback I have been receiving, it may be something I need to seriously consider!
Skope: Any parting words of wisdom?
BBZ:   I just want to thank the people at Skope for giving me this opportunity to reach more people with my music! You guys Rock!
Check out BigBangZoom @ http://www.bigbangzoom.info for some truly inspired and original acoustic and rock-n-roll songs. You'll be glad you did.
Douglas Garnett – http://digdugdisaster.com – douglas.garnett@gmail.com