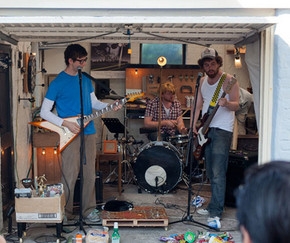 If an independent band wants to acquire renowned notoriety, the members must showcase sheer dedication and talent; however, there are a few shortcuts to make the ascent to stardom more accessible. This guide details several promotional measures that any musical group can utilize to reap a larger audience.
Fill All Member Vacancies
A band is only fully operational when every instrumental role is occupied; otherwise, the group will be unable to perform or record. To create the desired sound, every musician must be cooperatively synchronized with the other performers. Make sure to hire compatible members, and focus on equally collaborative efforts. When you have a good group make sure they are equally committed to the project or else it is already doomed to failure.
Construct an Original Image
Visual awareness is vital for attracting initial listeners. A powerful artistic design can captivate fans before they have even heard the music. Employ outside illustrators and professional photographers to guarantee a persona that generates a positive public response. Once a striking visual style has been developed, it should be widely distributed. Street crews with guerrilla tactics can ramp up local support by plastering iconic imagery of the band in every possible location. Be sure the group is agreed to the logo and name.
Record and Release Demos
It is necessary for an aspiring band to have an impressive repertoire of recorded songs. Audio quality is extremely important, so studio time should be considered a major investment. Poor quality is indicative of unprofessionalism, and it buries individual musical contributions in the mix. Without an audio catalog, a band cannot establish their talent. On the other hand, if a group is able to boast a moderate collection of crystalline audio recordings, then they will already be impressing producers and executives.
Promote with Social Networking
The internet has dramatically expanded a band's capacity to connect with new fans. Performers can appeal to prospective listeners around the planet with ease. Social networking websites have a built-in fan base comprised of millions of unique listeners. This provides an instant opportunity to spread awareness of a band. Musical performers should also start their own site, which showcases their auditory art in detail.
Book Gigs Online
Musicians should perform on a regular basis, even if compensation is not directly provided; however, it can be difficult for new bands to book shows even when they are playing for free. Luckily, the internet has convenient options like Sonicbids to get gigs scheduled and promoted. Take advantage of any resource available and don't be afraid to stand out in a crowd of other musicians.
Above all, bands must have unflappable resolve and unbreakable persistence. With a little patience, the aforementioned tips can help launch an obscure band into fame and critical acclaim.