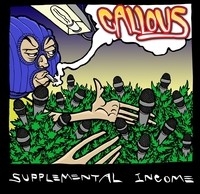 Hailing from Humboldt County, California, Callous MC is putting his skills to the test on the new record 'Supplemental Income'.   Under Dirty Rat Records and also as part of the Dirty Rats group, Callous has decided to cut his second solo album.  
As a member of the Dirty Rats crew, Callous along with Kush & Sonny Wong have had the pleasure to open up for some big-time acts such as: Cypress Hill, KRS-ONE, Big Boi, Redman, Too Short, Guru, Masta Ace, Pep Love and many others.   And now Callous MC is flippin' it and switchin' gears in order to make way for his solo effort fittingly titled 'Supplemental Income'.  
With a passion for poetry, it makes sense after you hear Callous spilling some nasty rhymes on the new record.   Track after track, the Cali rapper is literally killin' it on the mic with his slick delivery and dope flow.   I would say that
'Supplemental Income' has an old-school flavor but with a new-school attitude & mindset.   The rapping is smart, calculating and right on point with the times.   Callous MC is rappin' about this & that and everything else in between!   He even calls out our society with his scheme to put everything in perspective on the closing number "American Terrorist".     And in the end some people may get burned like: "Big, fat hypocrites" OR "Corrupt motherfuckers".   I love the fact that Callous isn't afraid to say it by calling out certain folk on "American Terrorist" and I feel we definitely need more of this today.  
"All For The Love"
http://youtu.be/oiF1Zv3bWE8
It's safe to say that Callous MC is a freestyle fanatic with a lot on his mind.   His rhymes are tight and the beats are even tighter where you might find yourself saying "Bump that shit!" like on track 11 "Connect Meta4".   No question that Callous MC is layin' it down on 'Supplemental Income' with fresh rhymes and hot jamz.  
This Dirty Rat is in search of some golden cheese and I'm sure that he will find plenty of cheddar in the end.   Callous MC is coming hard with 'Supplemental Income' and after you hear all 19 songs on the album you will realize that there is nothing "supplemental" about this rap cat scratchin' and clawin' his way to the top.   Callous MC is simply on fire here to the point where he can't stop and he won't stop!   The future is looking UP for Dirty Rat Records own Callous MC where 'Supplemental Income' may in fact transform into Substantial Income sooner or later.
By Jimmy Rae – jrae2@att.net