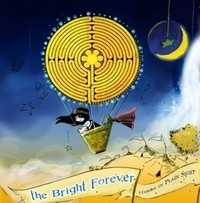 About the Artist: The Bright Forever is the creative project of singer/songwriter Megan Hook and a collective of musicians helping to bring the songs to life. Megan was born in rural Pennsylvania. she fell in love with music before anything else. Megan now lives in Los Angeles, the city of angels, and is knee deep in recording and finishing a triptych of albums to be released in 2013. The first of these is "Hidden In Plain Sight'. The second is "Carried Away" and is available now. She has just started recording "Starting New" the final CD in the triptych. This is a review of Hidden in Plain Sight.
Review: Hidden in Plain Sight is one unique release that certainly doesn't disappoint. This is and artist that brings to the table effective songwriting via a highly subjective musical delivery. This meshed with a one in a million Alt-Folk-Rock sound and effective visuals and vocals makes for a very effective combination no doubt. Hook is just a breath away from Modern Folk or even Alternative Rock but he skillfully manages to never cross the line into that realm. This makes for a very unique sound indeed that is mystifying end extremely fascinating. All songs are wonderfully simple but masterful in their overall arrangements. Music reminded me of a cross between Sinead O' Connor, and some of the slower material from Florence and the Machine. This CD is quite entertaining overall with an unobtrusive somewhat detached vocal feel from Hook. She is a musical triple threat in my mind.   She is a world class songwriter and has what I would describe as an amazing amount of savant-esqe creativity. She has a young and likeable appeal (visually and vocally). Her lyrical content is a giant curveball and offers a very compelling and soul searcher perspective and spirit. No doubt many will like Hook and her mysterious music. All songs do exactly what they are meant to do via well-crafted movements and top tiered musicianship. The overall production value is superb with a crystal clear sound quality. Top Tracks: Caught the Light, Miracle and Desert Song. If there's was something special about Hook it would have to be her savant style writing virtuoso and brilliant perspective on life through her eyes.
Criticism: CD is bit short at 7 tracks. Perhaps 4-5 more songs are needed to me it a fully loaded catalogue of music. All songs over 4 minutes tend to drag you to the finish line.  
Song Samples: http://thebrightforever.com/Listen.html
Conclusion: The Bright Forever featuring Megan Hook has proven herself with this latest string of releases. She is clearly an up and coming talent around Los Angeles and all band members backing her up are clearly capable musicians. I must admit "Hidden in Plain Sight " sucked me in like a powerful drug and refused to let go long after the CD was over. This usually indicates he is something special about the artist or band in question. Thus deserving praise, recognition and musical fame at the international level. Need I say more.
Official URL – http://thebrightforever.com/welcome.html
Rating 4/5 Stars
Drew Blackwell edited by Michael Rand
Send comments to therandbrand@gmail.com