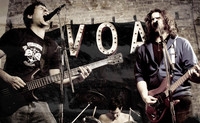 On the heels of their full-length, Chicago's Voice of Addiction have dropped more of their archetypical Punk-fueled, Metal-laced Rock with their latest EP, Modern Day Meltdown. The politically charged trio tackle contemporary topics ranging from global warming and cultural difference to "a day in the life" of The Windy City. Both in delivery and execution, Voice of Addiction remains a voice that is easy to hear.
Brief but poignant, the album highlights the chug guitar, explosive percussion and the social awareness within the lyrical matter. Their aggressive approach is apparent from the opening tom beat and electric strums on "Daley Struggle." The driving guitar and across the board drum work lay the foundation for the lyrical delivery–one of urgency and angst. And finally, who can't appreciate the direct and clever jab at former Mayor Richard Daley in the track title? "Juvenescence" continues the urgent pace of the album with another guitar-driven Rocker that features frontman Ian Johnny X Tomele channeling Mighty Mighty Bosstones in the gruff vocal delivery. The drum work on this one is extremely tight, the electric wail fills are rife with precision and the backing vocals add another dimension to the depth of the track. Clever breaks and the ever-present bouncing bass line complete this one. Title track "Modern Day Meltdown" speaks directly to the state of the Earth and climate change. Again guitar leads the way musically, resting atop the thunder of the percussion and the foundation of bass thumps. The midpoint musicality comes unchained and highlights the precision of each instrument. It sounds like every drum and cymbal is hit while the guitar and bass run tandem in chromatic harmony. The tempo change through to the outro and the soaring guitar work usher this one through with the same sense of urgency. "Same Ole Song" is anything but. It immediately commands your attention with more soaring guitar work until the whole of the track decrescendos into a mid tempo rocker at the verse. Then at the chorus it plunges back into full band onslaught with the same appropriate urgency and message in the lyrical matter: "Do what you're told/Buy what you're sold."
Strong and in-your-face is the hallmark of Meltdown. The Punk and metal elements appropriately fit seamlessly; the band and their instrumental prowess is precise and tight, yet the production allows a raw gritty organic feel to remain within the distortion and guitar effects. The lyrical matter shows a depth and understanding beyond simple Punk fodder; instead using the tracks as a springboard for a socially aware message. Simply, this is sit up and pay attention music. After all, when you hit play, you're not given much of a choice.    
by Chris West – cwestlaz@gmail.com
I give this 3.5/5 Skopes.