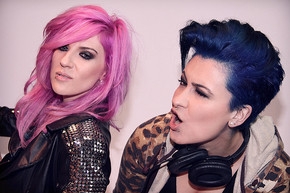 Named after Helen's sugestion, 'mixtape' means a compilation of songs recorded in a specific order, traditionally onto an audio Compact Cassette and that explains the duo as a synthesis of the spirit that moved those compilations: a reunion of musical influences.
http://www.youtube.com/watch?v=ib8vfHAAks0&hd=1
Mixtape was formed in 2008 and the internet has been their main way for spreading their music. "Facebook, twitter, orkut, youtube and tumblr are some of the tools we used to make things happen. Due to the success we had doing that, we then conquered other important press of the country, such as newspapers, magazines, tvs and radios", explains. Now, the girls have more than 185 thousand followers on Twitter and more than 5 thousand daily access on their online material.
Besides the virtual tools, Mixtape manage another business related to music. They have a clothing store and brand called "Vira o Disco" created in 2005, with the intuition of creating clothes inspired in music, cinema and art. "We love fashion and art and we believe music fits perfectly well with them."