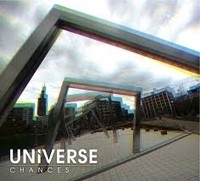 As a kid, I was a consumer of the Punk genre. Symbolically, it was the first time I could separate myself from my father's vinyl as something wholly "mine." Within a decade from then, Punk would deconstruct and splinter. And as a writer in the 2000s, I watched the fractured pieces come falling down into their respective camps–Emo, Screamo, Metalcore and the like. But the proliferation of Pop Punk bands inundated the radio and added an alternative musical identity. While one could argue that the golden era of such bands has come and gone; fan bases of the genre and sound still abound. Chicago based, Universe is still bearing the torch for the infectious melody-driven Pop Punk genre and are delivering with their new seven-track EP, Chances.
"Walk" opens with agro electric guitar and thunderous percussion at the intro only to cede to harmonized vocals at the chorus. Various breaks and tempo changes spice this track in what could easily be an Angels & Airwaves tune. Spiked with lush imagery in the lyrical matter and the strong presence of the musicality, this one opens (and foreshadows) the album well. The agro tempo continues with "Downin'" and its anthemic, soaring guitar work and more pounding percussion. The urgent vocal delivery carries the track pace and illustrates frontman, Jamie Miller's range. Colorful imagery, metaphor and emotive lyrical matter hallmark "Orange Leaves." Again, the equal balance of musicality and vocals share the limelight on this one that is essentially a commentary on people who portray themselves in a false light. Clever metaphor, muses me. Title Track "Chances" pushes the tempo beyond the opening tracks and keeps Miller's range at its upper limits. This one is spiked with an angst (vocally and musically) that hadn't made an appearance on prior tracks. Perhaps this one contains additional emotion considering it has an autobiographical connotation in regards to the "chances" the band has experienced through their tenure. "Blue" opens to dour chug guitar through the opening chorus until it builds at the opening verse. The tempo keeps with the album pace and the musicality remains alongside more soaring vocal work and harmonizing.
The appeal of the Pop Punk formula lay in the ability to pen emotive lyrics and to create that memorable melody that opens the genre to a mass appeal base. If that in fact is the formula; Universe is in strict adherence to it. The melodies are infectious, the lyrical matter fits and the band as a unit is technically tight. It seems the stripped down line up has served the guys well in finding the sound they wanted to convey and offering seven-tracks on an EP format gives the listened more than the ubiquitous five or six. Well conceived and executed.        
by Chris West – cwestlaz@gmail.com
I give this 3/5 Skopes.