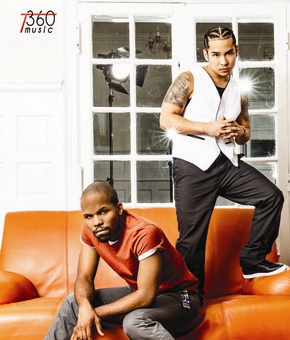 There is a new musical duo who feed off positive energy and the result is music that is light years ahead. Can someone say beam me up Scotty. Along with their dynamic producer and manager otherwise known as simply "The Coach" they are creating music that is cutting edge with beats and lyrics that are authentic. T-360 and Jan1 consider themselves a collective group of individuals whose works often feature emerging artists such as unique lyrical rapper E-lom and Sosa.
Both agree that many groups dissolve as a result of a break down in outlooks and in the T-360 music camp communication is the foundational key to their closeness. T-360 is always in the same head space with the absence of an ego and has an undying realistic loyalty to his team members. Jan1 is the voice of reason and points out areas where they can improve. Unlike other industry cats these guys seem to thrive off constructive criticism. Their current tunes, the Future and Pushy Mama which both have remixes from a variety of deejays spill out nothing but good vibes. Pushy Mama is a fun social commentary on how female individuals maintain that lifestyle of high energy depth to where everyone is having a good time whether male or female. We haven't had any negative responses and it is a light hearted song and not to be taken seriously. They love their female fans, no one likes a Pushy Mama male or female. Jan1 states that T-360 music is doing something different where most songs are about negativity and emptiness.
"The Future"
http://youtu.be/IFnGiCTA1qw
He also makes note that he hasn't heard much music out there that is similar to what they are bringing to the atmospheric musical table. Most of the hit songs today talk about sex, drugs and there is a need for positive music. He strongly feels that some of these artists need to ask themselves how they are personally effecting the future of others. Speaking of the Future which is the title of one of their exploding tracks with remixes from various deejays including some noted Europeans. The track is a feel good vibe where according to T-360 everyone can relate both rich and poor, students and those in the working force. We all have our struggles in life and it happens to the best of us but it will work itself out. For as long as you have faith do not be afraid of the unknown just look to the future.
Overall this duo is just trying to promote positivity. Unlike many songs which focus on problems rather than solutions they are providing alternative solutions via music.
T-360music.com has already travelled almost around the world via the internet and their presence will only continue to strengthen. Recently finished opening up in Manhattan's East side for Grammy award Cee Knowledge as well as doing their humanitarian service for the Race for Hope at the No Brainer Benefit Concert.
LA Virgil – lavirgil07@yahoo.com – http://www.hismultimediaintl.com