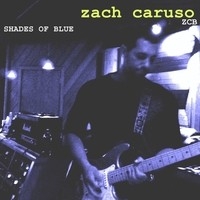 It shouldn't be shocking that Zach Caruso has a good grasp on lyrical composition: the man's earned a Bachelor's in Journalism and a Master's in Writing. Some might say he has an unofficial degree in Guitar.
He also has considerable real-world experience, a full decade in fact, during which time he has opened for Grammy-nominated acts at several big-city venues along the East Coast.
Now comes the album Shades Of Blue: "an eclectic mix of sounds, drawing on blues-rock and folk-based styles."
"Promised Land" is an energetically played acoustic track, in which the speaker sure seems to be having a crisis of the soul:
"I turned my back on my closest friends / I set my life ablaze then played a fiddle as I watched it end / If there's a Jesus, sure as hell he has forsaken me."
"I Am David"
http://youtu.be/zd_lUTrnHWs
The electric guitar (and the distortion) is plugged in for the following track "I Am David." The lyrics here also seem a tad formidable: "I am David / Life's Goliath." About 60% of the way through this track, we finally get a taste of a Caruso guitar solo; appetite whetted.
"Come Now, My Enemy" has some violent imagery and gloomy acoustic guitar reminiscent of the slower, brooding offerings from Stone Temple Pilots or Alice In Chains. Caruso lets loose on the vocals during this chorus.
"Ain't No Sunshine" offers an earnest alt-rock melancholy. Two-thirds of the way through, there arrives this fine, brief sludge-rock guitar solo. I kinda wish Caruso would tear it up for a longer period of time.
"Blanket Of Snow" has the most melodic intro so far. There's something wistfully romantic about this piece.
"The State I'm In" springs back to life with a spirited intro, and this rockin' bounce sustains itself for quite some time, navigating through emphatic guitar chords and crashing cymbals.
The title track is my personal favorite. The adjectives "sincere" and "soulful" come to mind. Caruso's voice is well-suited to this type of music. Also dig the rhythm guitar. And, yes, at last we get a full-length solo!
So how many "shades of blue" exist? Find out at: http://www.cdbaby.com/cd/zachcaruso2
Or perhaps the answer lurks at: http://www.zachcaruso.com/index/
Ray Cavanaugh – owleyesgatsby@yahoo.com