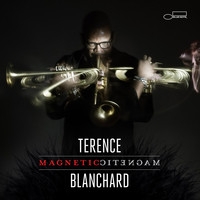 Terrence Blanchard is renowned in jazz circles as a remarkable trumpeter, composer, arranger and bandleader. Vanity Fair writes, "He plays the most coolly expressive trumpet in jazz, transmuting the instrument's repertoire of smears, growls, peeps and blasts into an astonishingly fluid language both luxurious and controlled." A veteran of Art Blakey's Jazz Messengers (recommended by Wynton Marsalis as his replacement in 1983), Blanchard began his own recording career in a band co-led with saxophonist Donald Harrison, delivering two albums for Concord and three more for Columbia before launching his solo career with his eponymous 1991 album, also for Columbia. He delivered nine albums for Columbia and Sony Classical. His latest release Magnetic was released in 2013 (Blue Note Records).
 
The CD gently takes to flight with "Magnetic" an intoxicating intro piece that flows and ebbs its way through to musical fruition. As expected this first piece serves up impressive groove against dynamic Jazz soundscapes with impressive piano and trumpet tandems and solid low-end rhythm section. The CD makes a great first impression and literally grabs your attention with its smooth musical flow and dynamic melodies. Track 2 "Jacob's Ladder" shifts gears a bit and heads in the smooth as silk direction with well placed Piano, infections horn section, well placed drums, and amazing feel. Track 3 "Don't Run" a more upbeat piece that serves up impressive groove that methodically evolves into a slamming single with mesmerizing trumpet, full tilt rhythm section and infectious melodies. The CD makes a great first impression providing 3 solid musical experiences in a row. Musical textures reminiscent of classic Herbie Hancock, Billy Cobham, Miles Davis, George Duke and even classic Tony Williams. As the CD slowly unfolds you will notice most of the pieces fill the sonic space with all the attributes of classic free form jazz with amazing Alto and tenor Saxophone, solid rhythm section, well placed Vibraphone, Trombone, Piano and Rhodes Organs and of course Blanchard on the Trumpet. This Ensemble is spot on and provides everything you would expect in the way of musical peak and valley with music that is extremely dynamic and entertaining. All in all the CD has some truly impressive moments showcasing Gold Standard playing, performances, songwriting, rhythm section, chops, dynamic grooves – all rich in melody and flavor. What's even more impressive is how well all these players share the sonic space with each other yet allowing for much in the way of musical freedom. As a listener I was entertained the entire time. Blanchard and his band clearly know how to play their instruments. Together: they are a well-oiled jazz-machine. From dynamic "Pet Step Sitter's Theme Song, to hypnotic   "Hallucinations", to melodic "Comet" my personal favorite "No Borders Just Horizons" this CD has something for just about everyone. The CD ends with Track 10 Time to Spare" the perfect finale statement for a CD of this caliber.
 
I normally dedicated this paragraph to weaknesses found. As you can see I have nothing worthwhile to report.
 
I wish all CD's were this polished, professional, and enjoyable to review. After spending some time with Terrence Blanchard it's hard to find any solid weaknesses worth mentioning. Instead as the CD progressed I became more and impressed with the production as a whole. Make no bones about it these are world class jazz the way it was meant to be played. Terence Blanchard is an impressive musical production from start to finish. There's not really a weak song on this entire catalog period! The musicianship is first-rate, the songs are dynamic and passionate. Each one possessing a unique personality, flair and signature groove. Lastly – the playing, writing abilities of Blanchard are altogether tantalizing and amazing. Sure to keep you fully entertained well into and enchanted evening.
URL: http://www.terenceblanchard.com/
Label: Blue Note Records
Genre: Jazz
Sounds Like: Miles Davis, Billy Cobham, George Duke, Herbie Hancock
Technical Grade: 10/10
Production/Musicianship Grade: 10/10
Commercial Value: 10/10
Overall Talent Level: 10/10
Songwriting Skills: 10/10
Performance Skill: 10/10
Best Songs: No Borders Just Horizons, Pet Step Sitter's Theme Song,
Weakness: None