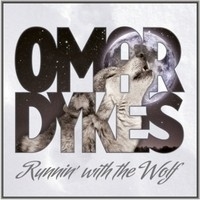 As the title suggests, this release is Omar's tribute to Chester Arthur Burnett, aka Howlin' Wolf. It's no secret that Rock & Roll is derived from the old blues legends.   The British Invasion was also based on the English experience with U.S. based blues artists.   The Stones, The Animals, Cream, John Mayall, Yardbird's, and Led Zeppelin, are a few examples of groups that started out as blues based bands, and even continued recording and performing some of the classic tunes once they became recognized.   Another blues legend, Willie Dixon was responsible for collaboration with many of Wolf's tunes, as was legendary HW guitarist Hubert Sumlin.  
Omar has been compared vocally to many, including Mr. Wolf himself.   Omar And The Howlers have been touring since 1978 gaining worldwide recognition in the blues biz.   The much-covered material is taken back to the way The Wolf and Willie Dixon intended.   Spoonful, best known from The Cream version, has some effective "Smoky" sounding guitar playing.   Smokestack Lightning is done with a nice traditional treatment, unlike the rousing Yardbird's version (engraved in my brain) from the 60's. Wang Dang Doodle (what a great song title) has an upbeat shuffle to it, with sax accents where needed.   Tell Me What I've Done is the blues ballad tale of a man questioning a woman (hasn't changed much over the years).   His treatment of The Red Rooster (which competes with Red House for the most covered blues jam song) is a well-done slow sobbing pleading guitar ballad.   Back Door Man is a fun depiction that you feeling like plugging in and jamming with.  
Omar has that gruff, but polite blues voice reminiscent of the masters.   His guitar work hinges on tastefully weaving the notes in and out of the melody, ala B.B. King.   The release is fun and isn't over mixed or over laden with uneccesary fluff.
http://www.omarandthehowlers.com
By R.M. Engelman