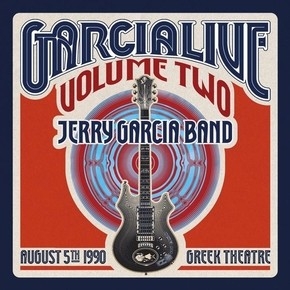 GarciaLive Volume Two: August 5th, 1990 Greek Theatre (Round Records/ATO Records),the second in a series of archival concert releases, is out today. The previously unreleased live recording captures the complete set performed by the Jerry Garcia Band on a perfect summer afternoon at the Greek Theatre in Berkeley, CA.
http://www.youtube.com/watch?v=a0yd7km0fx0
Jerry Garcia Band'sotherworldly take on the Jimmy Cliff classic "The Harder They Come" is streaming here. The track is one of two on the album that features acclaimed banjo virtuoso Béla Fleck. Other highlights include a lilting "Stop That Train, a bouncy "My Sisters and Brothers" and renditions of Bob Dylan's "Forever Young," "Tears of Rage" and – for the mesmerizing closing number – "Tangled Up in Blue." The double albumfeatures the classic latter-era lineup of the Jerry Garcia Band – Jerry Garcia (vocals, guitar), John Kahn (bass), Melvin Seals (organ), Jaclyn LaBranch (vocals), Gloria Jones (vocals) and David Kemper (drums). SiriusXM's Grateful Dead Channel will air a special on GarciaLive Volume Two on June 26 at 9 AM ET, June 28 at 1 AM ET and June 29 at 3PM ET.