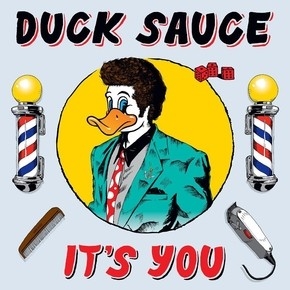 Duck Sauce, the Grammy-nominated duo consisting of Fool's Gold trendsetting boss A-Trak and house legend Armand Van Helden, are putting the final touches on their debut studio album, Quack, due for release this fall on Casablanca records. Together they shuffle into the summer with the absurdly catchy single "It's You" and an equally bonkers, hair-raising video by acclaimed director Philip Andelman.
WATCH "IT'S YOU" HERE:
http://www.youtube.com/watch?v=QhhnUTNror8
DOWNLOAD THE TRACK HERE:
http://smarturl.it/DuckSauceItsYouiT
"It's You" properly follows in the webbed footsteps of Duck Sauce's past video hits, including 2011's VMA nominated, comically grotesque "Big Bad Wolf" and the viral smash "Barbra Streisand" in 2010. The stadium-filling whistle of "Barbra" remains one of the biggest dance tracks of the last decade, racking up over 100 million YouTube plays and hitting #1 in 12 countries.