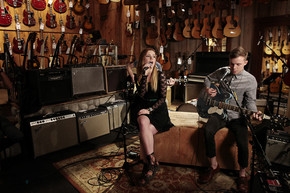 An ongoing podcast series created by Guitar Center that delivers unique music, and the stories behind it as told to host, Nic Harcourt, in the highest quality possible. The series features both exclusive performance videos and audio podcasts of these interviews that aim to tell the stories of the artists, their background, their music and more.  
Echosmith "Talking Dreams" At Guitar Center:
http://youtu.be/WNsp5vSXGuQ
To create great, inspiring content, for emerging artists, utilizing the web to amplify access, enabling consumers and music fans to access it at any time, and to allow Guitar Center to focus on less mainstream topics more pertinent to customers' needs such as the art of creation, how an artist crafts a specific tone, their studio techniques and how to successfully navigate an uncertain music business.
The interview portion of the audio podcast is available for free at: http://atguitarcenter.com/podcast/.