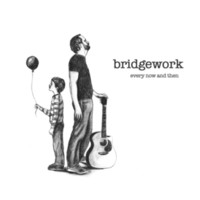 Coming fresh off a great interview with John Renaud of Bridgework, (http://www.skopemag.com/2013/05/01/jimmy-rae-crossing-paths-with-bridgework), I now get to review Bridgework's first ever full-length album 'Every Now And Then'.   Actually, it's all thanks to a successful Kickstarter campaign where enough was money raised so that Bridgework could fulfill its dream of creating a full-fledged record.   I'm so glad he did too because John made every penny count on 'Every Now And Then'.
As you may have figured out already Bridgework is just one person–John Renaud.   He is solely responsible for everything on the new album from laying down the instrumental parts and the vocals to coming up with all the lyrics and producing the 13-track recording.   This blew my mind because when you hear 'Every Now And Then' you will swear that Bridgework is just one big, kick-ass band!   But low and behold it's just John Renaud as the killer one-man show!  
The record is definitely in the Rock realm with a cool, Alternative edge but Bridgework has many tricks under its sleeves.   What I mean by that is that Bridgework isn't just your ordinary alternative rock band with a one-dimensional sound.   What you get are many layers of original & inventive material that Bridgework lays out for the listener.   You'll hear a raw touch to the music where Renaud is singing with a whole lot of might.   One minute you could be experiencing fast-paced rock and the next Bridgework is switching gears on you by slowing the tempo way down.   Another aspect I picked up on was how melodic these songs were and the vocal dynamics were superb.   A great example of this would be on track six "Picture Frame" where melodically and pitch-wise John is right on cue offering up one powerful vocal performance.   I am further blown away at how well John Renaud played each instrument where the guitar & drums really make a statement on this album.   Vocally & musically, 'Every Now And Then' delivers a knockout punch!
I have to add that I picked up on something and John can correct me if I'm wrong, but I did happen to hear a major Gavin Rossdale/Bush influence at times.   It was just on certain songs that I heard this but the similarities in style definitely stuck out to me.   I can't say enough good things about Bridgework and the new album 'Every Now And Then'.   I am an instant fan and I have to say that John Renaud is one talented individual with LOADS of potential, so can't wait to see what happens next!   The Bridgework plans are now laid out and so it's on to phase 2 of the project: Right Now And Forever Always.  
http://bridgeworkmusic.blogspot.com/
5/5 Skopes
By Jimmy Rae (jrae2@att.net)