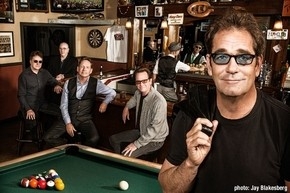 The Outdoor Music Center at Hoosier Park Racing & Casino in Anderson, Indiana welcomed Huey Lewis & The News on Saturday, June 08, 2013.   What an excellent way to start out the concert season with the one-and-only Huey Lewis and the News!   Even better was the fact that this was the "Sports 30th Anniversary Tour" celebrating 30 years since the release of the hugely successful album 'Sports'.   The 'Sports' record came out in 1983 and reached #1 on the Billboard 200 back in '84.   The album contained four Top 10 Hits on the Billboard Hot 100 along with a fifth single that was in the Top 20.   'Sports' has been certified 7x Platinum by the RIAA and obviously is still treasured by fans 30 years later including myself.
I'll be the first to say that I am a HUGE Huey Lewis & The News fan and I have been for a very long time.   You can't beat their timeless rock 'n' roll sound and then of course there's Huey playing a mean harmonica.   This would be our second time seeing HLN for me and my girlfriend and I believe a first time for our other guest.   We were all pumped up with perfect weather surrounding us, so we were now ready to jump in the DeLorean and head back to 1983.   I'm not sure if the famous "Back to the Future" Clock Tower is still around but I can proudly & honestly say that Huey Lewis & The News are still very much around and better than ever!  
The entire 'Sports' album was performed by the band which included the songs: "The Heart of Rock & Roll", "Heart and Soul", "Bad Is Bad", "I Want A New Drug", "Walking on a Thin Line", "Finally Found a Home", "If This Is It", "You Crack Me Up" & "Honky Tonk Blues" originally written and performed by country legend Hank Williams.   The 80's-flavored group also went on to perform other classic hits such as: "Doing It All For My Baby", "Do You Believe In Love", "Trouble In Paradise", "The Power of Love", "Workin' For A Livin'" (to which my dad used to LOVE and repeat the line "I'm taking what they giving 'cause I'm working for a livin'") and "It's Alright" originally performed by The Impressions and written by Curtis Mayfield (A Capella at its finest!).   And they even threw in a brand new song called "While We're Young" that fits HLN perfectly because they have not missed a beat after all these years.   No need to go back in time because Huey Lewis & The News sound awesome in 2013!   I'd also like to add that a cover of "Some Kind of Wonderful" by Grand Funk Railroad was also performed that night and a very cool rendition I might add.  
I was so impressed with the overall performance and how good Huey Lewis and the News sounded on that Saturday night at Hoosier Park Racing & Casino's Outdoor Music Center.   Even though Huey himself joked in between sets that "9:52 was his bedtime", aging played no effect this time around and further proves that some things do, in fact, get better with time.   The news is in: You either have it OR you don't and Huey Lewis & The News have got IT!   Here's to Huey Lewis and the News rockin' & rollin' forever!
Photo: Jay Blakesberg
www.hueylewisandthenews.com
www.hoosierpark.com
By Jimmy Rae (jrae@skopemag.com)