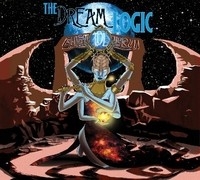 Much in the vein of Medeski, Martin and Wood or Galactic; The Dream Logic has ushered forth a fusion album that seemingly says: "Genres, styles and classifications be damned!" Spanning myriad musical styles, the 13-track self-titled album effortlessly blends nuances of Jazz, Rock, Soul and Funk into an amalgam sound where the sum of the parts far surpasses any singular "type" of music making. This liberating collection of tracks also gives credence to what can be accomplished when pursuit of music, any and all music, goes unabated or hindered by restraint.
Take the fun, Funk ethos of "Quietly Freaky." Combining horn section groove with Rock sentiment guitar and Soul-style backing vocals, this one foreshadows the plethora of influences and styles accessed on through the breadth of the album. With myriad of instrumentation this one bounces with a Groove swagger that comes though the guitar work and the blasts from the horns. Tandem solos of trombone and sax through to the outro is a shiny facet on this one. "I'll Be Right Back" bops through wah guitar and a plucky undercurrent bass line. This mid tempo rocker is spiked with backing Hammond style keys and Blues notes guitar fills just underneath the foreground vocal delivery. Bass and keys take the helm at the midpoint break with intermittent pick work from the electric. Wail and wah electric ushers in "The Lost" with accompanying keys and soprano sax blasts over frantic backing percussion. This one is fueled with urgency and certainly lives up to their moniker of "Jam Jazz." Fun and total instrumental run amok; this one could easily be a Galactic B-side. "Spooky Reaction" is the album big daddy weighing in at just over 6:30. Again, the Soul-meets-Funk ethos commands this track into a Groovy, Jammy cacophony of sounds with picking and chord guitar, backing vocals and intricate flute work in the fills. "Mustafa Sunrise" opens to sax note and guitar mocking tandem with time-keeping Tropicalia style percussion. The back and forth instrumentation highlights show the musicianship and available talent of the players. "What People Say" opens as a chugging Rock tune with electric laying down melody and the horn section in the fills with trombone taking the lead in the chorus break. The foundation lay in the thundering percussion and driving undercurrent bass line that bops near out of listening range. Rounding out the album is the effects-laden guitar of "Bad Deal." Joined by deep sax notes, this sounds reminiscent of a trademark Morphine track with added instrumentation to it. The vocals simply consist of a series of "Do's" allowing the instruments to carry the track as it plods through to finality. My humble opinion is they saved the best for last.
Tight technical command of the instrumentation, flawless production and a fearless approach to music and genre borrowing… what else really needs to be said? This is album isn't just good; it stands alone.
I give this 4/5 Skopes.
by Christopher West – cwestlaz@gmail.com