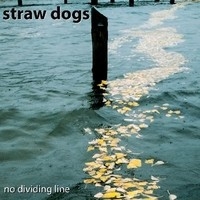 With a heavy emphasis on songwriting, the Straw Dogs have released their new full-length, No Dividing Line–14-tracks of Americana melodies, vast instrumentation and anecdotal, deep lyrical matter. Four years removed from their last outing, Dave Von Beck took a different approach to the songwriting format by initially starting with stripped acoustic versions of the songs and working them into rough recordings. Then, employing a host of Seattle's best musicians and allowing them to add individual facets transforming the songs into a polished finish.
The ethos of the tracks runs the musical gauntlet from the demure leanings of "Already Told Me" to the urgency of "High Horses." The acoustic foundation shines in the strum and pick work of the prior with its mid tempo feel, intermittent electric fills and straightforward delivery. Meanwhile "Horses" explodes out of the gate with guitar interplay: acoustic at the helm of melody while the electric dances just underneath with technically intricate note work. "Borrowed Troubles" ushers forth the Alt Country leanings with more acoustic lead, occasional bent Blues notes from the electric and slight backing percussion. If Death Cab collaborated with Ryan Adams, it would sound remarkably like this one. Pushing the instrumentation boundaries is "Star" replete with banjo plucks that cast the track as a Country fried version of a Simon and Garfunkle song. Brass makes an appearance on "Lay Me Down" with opening notes at the intro and an appearance mid-track in the solo in what is a demure love song. "The Wear" opens to picked acoustic and builds through to full instrumentation with slightly Country-tinged electric notes and the strong lead vocal delivery bolstered by backing vox.
Strong songwriting and emotive matter are the hallmarks of No Dividing Line, while the vast instrumentation brings the songs through to fruition. However far removed from their prior outing this may be, the Straw Dogs seemed to have found their method for crafting an album and if applied to their future outings, they can expect to continue creating strong albums of this ilk.
I give this 3.5/5 Skopes.
by Christopher West – cwestlaz@gmail.com