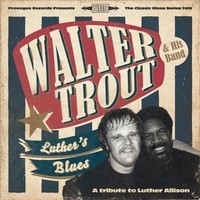 Journeyman blues guitarist Walter Trout has put together a tribute to blues legend Luther Allison for his 23rd solo release.   Walter had been a fan and even got to play with him once before Luther's untimely death from cancer at age 57.   Walter has always been a master at taking his influences and putting a personal spin on their styles, and then putting his name on it vocally and instrumentally.  
I'm Back is a fast rocking blues number.   Cherry Red Wine has the slow pounding rythym with in and out guitar riffs, reminiscent of B.B.   Pain In The Streets follows suit in format, and has classic crisp, clean licks, weaved into a ballad setting.   Bad Love is also an even flowing slower ballad styled tune.   Big City follows the slower pace, with a good SRV vibe to it.   Just As I Am is just a plain, straight up great ballad, and my favorite cut on the release.   Low Down And Dirty is a good song with a typical biographical blues lifestyle admission (to a woman of course), with some nice slide work.   Freedom lyrics deal with the fight and the dream involved with looking for freedom.   Luther Speaks features Luther explaining that he wants friends first and foremost.   When Luther Played The Blues is a tribute to the man and his inner drive to deliver the goods.  
Walter's voice is an important attribute to his guitar chops.   This release is a well-done tribute to a blues legend!
By RME