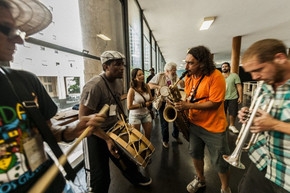 If you have been trying to make a career in the music industry, you likely already know how important having a good press kit is for your band. But you may be wondering why, even though you have an interesting band history and some great songs, you are only receiving a lackluster response from agents and venue operators. The reason is likely because, though your press kit covers all the fundamentals of a good press kit, it is still lacking in some important details. If you are trying to take your press kit from good to great, you need to focus on these important, but often overlooked, details.
Envelope
If you are relying on a printed press kit, it is important to place yourself in the position of potential agents and venue operators. While you probably haven't thought much about the envelope you are delivering your press kit in, this small item is vital as it will be the very first impression agents will have of your band. In fact, many band press kits go unopened because they fail to grab peoples' attention. So how can you make your envelope stand out in a stack of unopened press kits on an agent's desk? First of all, forget about a plain white or brown envelope. Rather, choose an envelope that has a color that is appropriate for your band's music. Furthermore, have a professional logo created and paste it on the envelope. Even better, if you know any talented artists, have them create a piece of art for the envelope to really make it show what your band can offer the music world. Think of your press kit's envelope as an album cover, allowing you to display your band's creativity in a visual medium.
Quotes
If you've ever been to a bookshop, you've probably noticed that most books tend to be covered in endorsements from media outlets and fellow writers. Oftentimes, a book will forgo a synopsis in favor of good reviews. The reason for this is simple: before investing time in reading a book, many consumers want to know from a respectable source that there is a good reason for reading the book in the first. This same principle applies to your band press kit. Before you send your music to agents and venues, send it to media outlets, musicians, and anybody connected with the music industry. While you may not get a response from many of these people, there is a good chance that somebody will respond, and if they have something good to say about your music, include the quote in your press kit (so long as you have permission to use the quote). Quotations make your band look like it has already gained a level of respect from critics and musicians, and thus can make agents take your work far more seriously.
8×10 Photo
Finally, many agents will want a professionally done photo of your band. This photo will help them promote your band should they choose to sign you on. If you have an electronic press kit, make sure the photo is easily downloadable. Don't rely on amateur photos; a professionally taken photograph of your band, though expensive, is a worthy investment if you want your band to be taken seriously.
While it vital to get the fundamentals of a good press kit perfect, it is also important to remember that if you really want to stand out from the crowd, you need to focus on the details of your press kit. A press kit that focuses on these details shows potential agents and venues that you are more than just another band, and that you have every intention of being taken seriously in the music industry.
Author Bio: Emily Steves has been playing guitar for several years, and likes to blog about the music industry. She's a big fan of band press kit for learning new riffs and picking up playing tips.