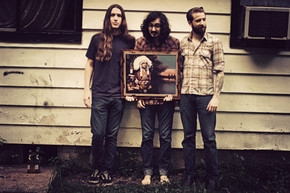 Formed by Thomas Storz (bass, percussion), Justin Toland (vocals, guitar, percussion) and Andrew Denham (drums, percussion), and originally from Mississippi, the power trio Dirty Streets now calls Memphis home. That's where they recorded their new album Blades Of Grass, at the legendary Ardent studio, under the guidance of sound engineer Adam Hill. The core trio also enlisted the talents of Lucero's Rick Steff on keys for this effort.
https://soundcloud.com/pavement-pr/dirty-streets-stay-thirsty
Blades Of Grass is an old school rock'n'roll record with nods to the sounds of Humble Pie, Jeff Beck Group and others. It's heavy music bathed in blues, folk and psychedelia, with chops to spare and a working class point of view. The band already has two independent releases under their belt, including an album with renown Memphis producer Doug Easley, and has toured extensively in the Southeast, with a couple of East Coast runs, and an eight week U.S. tour with Radio Moscow. Summer 2013 U.S. tour dates to be announced soon.