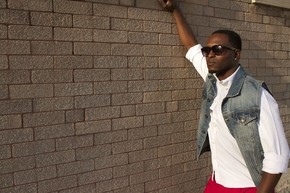 Good morning world. Before I get started I just want to offer my prayers & support for the innocent men, women, & children who are caught in the disturbing violence in Syria. The situation makes me so upset & sad and I hope that Russia & the US can help diffuse the massacres instead of making things worse, lets try peace & compassion for once! Next I want to say a big congrats to the promoters of Boston Calling (http://bostoncalling.com) who have already booked another music festival September 7 & 8 in Boston, MA. The first one was so huge and it just shows how powerful this music is. My guest today has got a voice that just puts me in a zone and he goes by Ayron Michael. Ayron is celebrating the release of his debut 'Unleashed' and after listening to the album over the weekend, I cannot put it down. Join us today as Ayron speaks on the album release, fashion & image, staying positive, Trayvon Martin, & much more!
Stoli: Where are we talking from today and are you ready for some hot summer fun in MO?
Ayron:   I am in Joplin MO and it has been a late start to summer in Missouri but I am glad it is here. I already have no tank tops and Toms on
Stoli: Give is a brief history of how you got into music and when did it become more than a hobby?
Ayron: I have always wanted to do music since I was little. I am from a musical family where almost everyone can sing except my mom and dad, lol. It was actually in college at FAMU when some friends of mine talked me into entering the Homecoming Talent show one year and I did and won by singing "Love" by Musiq Soul Child.   A guy named Kelly Parker came up to me after the show and asked did I want to make it a career, if so, he would love to be my manager and a career began.   It took a few years for me to create my style and be comfortable telling people my story but here I am.
Stoli: Your debut CD is coming out June 4th, 'Unleashed.' How long were you writing/recording the album and how does the album title define where you as a musician?
Ayron: This album actually took three (3) years for me to put it together.   I wrote and recorded many songs but they never meshed together until now.   For me, Unleashed means that I am letting go and revealing myself to the world no holds back.   I am like a dog off his leash going to places I wasn't able to go to in the past.   Also this means the beginning of a long journey that I am about to embark on and I hope to take my fans along with me.
Stoli: I love the song "Have It Your Way." What is that song about and will there be a music video for that single?
Ayron: Have it your way is one of my favorite songs as well.   Have it your way is about a guy trying his hardest to get with a girl he likes a lot. He is putting out all the stops to make the girl his.   He wants to sex her so badly that he doesn't care how she wants it.   He wants her to have free rain with him as long as he is there!
https://soundcloud.com/degarryan/have-it-your-way-mp3
Stoli: What is the most anxious feeling for you when you are about to put out your album and how do you release stress?
Ayron: The Most anxious feeling is even though you know the album is good I hope my fans feel the same way. I do not want to disappoint them.
Stoli: I really admire your image & fashion sense. Is that your doing or do you have a stylist helping you out and how important is that to you?  
Ayron: Thanks Stoli that means a lot to me.   I am currently doing it myself with the help sometimes of my girlfriend.   I would love to have a stylist because looking good is very important to me. I think ladies like a well put together man.
Stoli: What kind of mood & setting would you say that you write the best music?
Ayron: I like to write when I am happy. I haven't been able to write when I am sad yet.
Stoli: You have worked with legends like Angie Stone, TANK, & James Watkins, to name a few. What have you learned from them that you remember and use today?
Ayron: What I learned from all of them is to capture the attention of the audience and keep them with you until the end.
Stoli: You have a positive message and have concern for such causes as children's hunger and sickle cell anemia patients. How do you use music to help fight these issues and how can we help out as well?
Ayron: I try to make sure I make positive music and I want to make sure I am always giving to these causes until I cannot give anymore.   I am donating a dollar from each album sold of Unleash to the American Sickle Cell Foundation.   So with each cd I am giving the gift of good music and the gift of hope to a person or family in need.
Stoli: Next month George Zimmerman goes on trial for the shooting death of Trayvon Martin. Do you see this incident as black & white or one man shooting another man?  
Ayron: I actually see it as black and white because Trayvon was still a kid and I do not see how anyone can justify shooting an innocent child.
Stoli: What musical accomplishment are you most proud of so far and where would like to be in the near future?  
Ayron: Right now I am very proud of being able to finally get this album out and so many people showing me support for it.   I can't wait to tour the world performing in front of millions of people and on the same stages of artist I admire and love.
Stoli: What is coming up for Ayron Michael and where you @ online and purchase 'Unleashed'?
Ayron: Well I am now available for bookings and have started to get them here and there. My album is available on all major online stores like iTunes, Spotify, Amazon and Google play to game a few but also in local F.Y.E stores as well