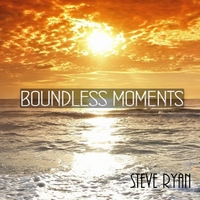 For fear of being too cliché, lets just agree to agree that fortuitousness often goes to those who see moments and seize them. Such was the case when songwriter Steve Ryan was stood up at a studio by an artist he was to be working with. Left with a block of studio time and an absent artist, Ryan decided to lay down some of his own material. What came out of that recording time was a demo that would garner him a national fan base here as well as on the international level. That demo has morphed into his debut full-length, Boundless Moments–a genre-blending album with elements of Rock, R&B leanings and deep Soul sentiment.
"Real Time" video – http://youtu.be/MMhUxQeYSvM
The anecdotal "Real Time" opens the album to groove melody a la electric guitar with an urgent pulse in the musicality. Backing vocals bolsters Ryan's strong vocal range while the track ushers forward around the bouncing electric strums, chords and fills. The positive, hopeful message in the lyrical matter illustrates his songwriting ability beyond simple fluff. The Soul and R&B enter on track two: "You Stare." As far removed as possible from the prior track, this is Ryan playing to his strength in that he isn't a one-dimensional artist committed to only one vein of music. While demure piano and Ryan's vocal delivery lead this one; the undercurrent of bouncing bass line and backing vocals add depth to the track as a whole. "Easier Said Than Done" shows a return to the Rock element with effects-laden electric at the foreground working in Blues note fills. This mid-tempo Rocker again, shows the versatility of the songwriter to transcend simple genre placement, instead focusing on creating music that is his own. Tempo change hallmarks "Don't Tell Me" in what is a down tempo track about the hypocrisy of people who show one side of themselves only to later reveal what they are really made of. The balladesque nature of the track again, pushes the genre limits with Rock electric guitar work; more demure piano notes and harmonized backing vocals. "Pride With Humility" rings with deep emotive lyrical matter in what is a soaring anthemic track of Soul, R&B and Rock elements spiked with hints of Gospel. "Say It Ain't So" shows the vocal range of Ryan in what is a soulful track with slight instrumentation of piano, snare work and more bouncing bass lines. The vocal delivery is pushed to the foreground on this one. Finally, rounding out the breadth of the album diversity is a dance remix version of opening track "Real Time."
Ryan has put forth a respectable first full-length outing. The musicality is tight and varied and the genre-blending abundant. The vocal prowess of Ryan is a tight hallmark of the album and his ability to cater his delivery to the multiple genres touched upon shows a command and understanding, not only of his personal abilities but also of the nature of the genres themselves. If he was able to muster a strong fan base from a simple demo; Boundless Moments should propel him beyond his initial achievements.      
Boundless Memories is available on Amazon: SKOPE IT HERE!
iTunes is another option:
https://itunes.apple.com/us/album/boundless-moments/id630791386
To learn more about Mr. Ryan, visit: www.steveryanonline.com
         
by Christopher West – cwestlaz@gmail.com