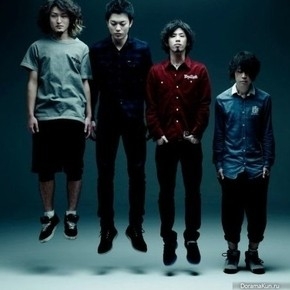 One Ok Rock, usually written as ONE OK ROCK, is a major label Japanese rock band formed in 2005. The founding and current members, are Taka (vocals), Toru (guitar), Ryota (bass), and Tomoya (drums). The band originally had five members, but Alex, a 2nd guitar player was found guilty of groping a girl on the train, and was asked to leave the band. The group fuses various musical styles such as rock, heavy metal, pop, with melodic musicianship and expressive, often emotional and confessional lyrics. Although based in Japan, they write and sing songs using English lyrics. The band's name, One Ok Rock, comes from "one o'clock", which is the time that the band originally met for practice each Saturday. However, as the Japanese language has no L sound (causing foreign words with L to be pronounced with an R sound), they changed the "o'clock" to "o'crock" which was then separated to become "ok rock".
After forming, the band spent most of their time performing at live music venues and smaller festivals, rather than focusing on recording. Performing at locations all over the country, their fan base grew due to their energetic sound and live performances. Writing lyrics that express a range of emotions, created a band with enthusiastic fans searching for music that could "speak" their own feelings. The mix of Japanese and English lyrics also made the music accessible to both domestic and overseas fans. By achieving such support from fans, in the summer of 2010, the band played at every major Japanese music festival.
Their fifth album entered the charts in 2nd place in October 2011. After the album release, they went on a nationwide tour with most sites selling out — including 2 sold-out shows at Yokohama Arena at the end of the tour. The band has had various singles charting in Japan, and their songs are gradually gaining popularity online; thanks to their bilingual website, English lyrics, and touring in nearby overseas countries. Their music, as well as bilingual appeal, is placing them in a position to possibly become one of the most internationally known rock artists in Asia.
ONE OK ROCK website — Bilingual English/Japanese
www.oneokrock.com
ONE OK ROCK — Clock Strikes
https://www.youtube.com/watch?v=6YZlFdTIdzM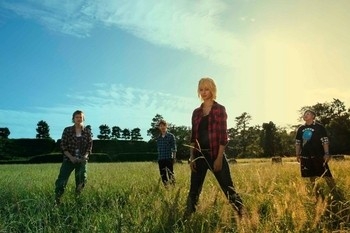 In the independent band scene, Far From Perfect, is a band worth giving a listen. The core of FFP began in 2007 when Japanese-Canadian Aimie (vocals) was introduced to Yuki (guitar and programming) while in Tokyo. She decided to remain in Japan, and they began writing music together, but it took time and effort to o find the right fellow members for the band so they had no live performances. The bands first live shows were performed in 2011, and through audition and trial, the band added Ku on bass, and Takemi as the drummer.
The bands music is influenced by various bands such as Story of the Year, Paramore, Green Day, and even One Ok Rock. Far from Perfect is also a band which writes and sings in English as they want people all over to find some companionship with their music. With energetic shows, emotional melodies, and a "we're your friends" vibe from the band, Far from Perfect, is a band to follow.
Far from Perfect website — Bilingual English/Japanese
http://farfromperfect.jp/
By: Apryl Peredo – inter.idoru@gmail.com