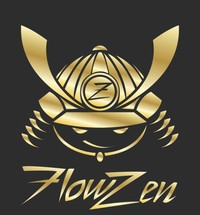 California-based multi-musician Flow Zen is going it alone with five new solo tracks, spiking Dub Step with a range of elements from organic instrumentation to Hip-Hop facets, in what is an interesting experiment in electronic music. The drive behind the melding of genres is apparent on the bio page of his web site: "Genres are for the constrained." With the Dub Step element as a foundation, the soundscapes achieved from the addition of live instrumentation, vocal additions and myriad beats creates an amalgam of styles and sounds that transcend a specific genre placement.
http://www.reverbnation.com/FlowZenMusic
"Black Ice" is a dour and busy track that undulates with programming, vocal sampling and beats in a state of constant flux. Flow Zen's remix version of artist Aureal's track features synthy veins, chimey waves and strained channels of aural assault coming together on this track laden with effects of all types. Waves of synth melody break the urgent interplay of lines at spots through the track. Piano and Rap vocal delivery highlight the opening of "Left Me Here" before the Dub notes blast in at the electronic chorus. The Rap lines addition again serve to break the electronica from constant to separated between the verse work. Though dominated by the electronic; this one was produced nicely with breaks and time changes. "Killer DeeJay" follows in the vein of "Black Ice" with the sonic assault of pure electronica only with a dancey vein present. This one also undulates with vast programming, chips and chirps and frantic, busy beat work. "Why" opens with synthy string and piano note intro as layers of dour backing electronica notes build from the rear of the track to multiple soundscape interplay. The Dub notes follow just behind in more myriad channels and veins. This track doesn't play out; it builds with the gradual addition of effects after more effects. The breaks are clever and return to the initial track melody allowing the track to come full circle. With lyrical work supplied by collaborator Jenny D, the electronica on "Silence" rumbles underneath the vocal delivery before overcoming the effects-laden delivery with staccato synth blasts and generated electronic fills at the chorus.
Both the hats of artist and producer shine through on the tracks. The creativity ebbs and flows from careful and restrained to havoc and electronica run amok; which I like. And Flow Zen's touch does illustrate that the Dub genre doesn't have to be a one-dimensional style and can be melded with adjoining facets to create something much bigger than just itself.                    
Christopher West – cwestlaz@gmail.com
Rating: 3.5/5
http://www.flow-zen.com
https://www.facebook.com/FlowZenMusic