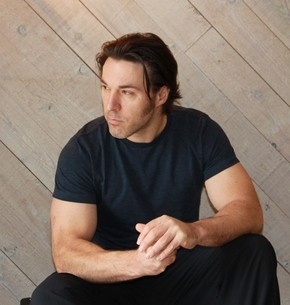 Hello everyone, I hope you are all doing well out there! I just want to note that Skope traffic from China is surpassing all other countries on the regular these days so I just want to say "Ni-Hao". A few weeks back I noted that legal music consumption will come through digital downloads and streaming. The RIAA is right on as they now recognize digital streams and 56 new certifications including gold & platinum. This is great becauase even if sales are not huge, digital streams tell a bigger story. This week I am really excited to have Tracy Walton on here as he releases 'If I Ever Get Away.' Tracy is a true talent and he has compiled a diverse and authentic collection of new music. This is Tracy's sophomore album and with songs like "Songs For You", "Think You Do", and "Walls", this is a winner. Join us at Tracy speaks on his growth between albums, genre diversity, being positive in tough times, and much more!
Stoli: Where are are we talking from today and how is the month of May going so far?
I am in CT in my studio. It just started raining for the first time in weeks so I can't complain. I recently played the album release concert at Infinity Hall in CT. I had the whole band out for the show and the crowd was really amazing. It's always great when the audience brings a bunch of energy to the show. It's so much fun to feed off of that. We were playing a few of the new songs live for the first time so it was a special night.
Stoli: You are getting ready to release "If I Ever Get Away." How does it feel as a musician when you know that you have an album coming out this month that people all over the world will hear and how are promotions going?
To be honest it really hasn't hit me. I put so much energy into making an album that there is always a period of adjustment once I finish mixing and approve the master. I spent a solid year obsessing about this album, so it's been nice to let it go for a bit. The press is starting to roll in and the buzz has been amazing. I am really excited to see what this album can do.
Stoli: How long were you writing the lyrics & instrumentals and where did you record the album?
Brand New Again came out in Oct. of 2011. At that point I had two of the songs written for If I Ever Get Away. I wrote the other 8 songs over the course of the next year. We started tracking the new stuff in Oct of 2012. I have a studio at my house where we do all the basic tracking. I built an addition with 12 foot ceilings so the room sounds really beautiful. We go for a bit of that Big Pink vibe, where we just set up and take our time getting sounds. We're not on the clock here so we can take our time and just have fun making an album. I mix at Axis Sound in NYC. Steve Rossiter and I have a nice relationship at this point where he knows what I'm after and he twists the knobs to get us there. Andy VanDette mastered it at Masterdisk NYC. Andy squeezed me in between remastering some of Rush's catalogue. First the hall of Fame snub, and than they get put on hold to master my albumÉ they really need more respect. (2112 is on my top 10 in case the sarcasm was missed).
Stoli: I love how the songs on the album range from indie rock to americana to country in style. Was that on purpose or does that just happen?
I like eclectic records so I try to make records in that style. Your description would describe any Beatles album from Rubber Soul on. They crossed genres constantly. I miss that on a lot of today's albums. For me, I write the album as a whole. Once I have a few songs written I'll start to write with a bit of intention.   Usually it's just a feel or vibe, such as needing something minor, or in 6/8. Than I typically try to stay out of the way and let the song go where it needs to go. I actually wrote "Let Me take You Home" the night before the last day of recording. I felt the record needed a rocker to give it a kick in the pants. I taught it to the band the next morning and we tracked it live. The version on the album is the second take. You can hear the rawness and energy come through. Maybe it's silly in the day of digital downloads, but I'm still trying to make a classic album.
Stoli: If you were to do a video for 1 song what would it be and what would the concept be?
I would love to do a bigger budget video for If I Ever Get Away. I would wrap myself in cellophane from head to toe and have it unraveling during the entire video. I would than superimpose that over some old 8mm footage of people dancing and celebrating holidays. If you don't mind just visualizing that it would save me a ton of money. Thanks.
Stoli: As a beer and whiskey fan myself, what inspired the song "Beer Is Now Cheaper Than Gas" and what beer do you prefer?
I actually overheard someone say that gas was so expensive that it was cheaper to just stay home on weekends and drink beer. The phrase beer is now cheaper than gas just hit me. I wrote the song in one sitting. Typically I would just get a laugh out of a song like that and discard it. It's not exactly what I do. But as I thought about it, I realized that sarcasm is 90% of my daily life, so why not sing a song like that. My stage banter is also really sarcastic, so it's nice to be able to pull out a song that is not as heavy as some of my others. I have to tell you, it's a fun tune to play live and people have a blast singing it. It's one of those tunes you know by the end of the first listen. I hope this is not too much of a let down, but I don't drink beer. I am often not the narrator of my songs, and this song is no exception.  
Stoli: What song is the most personal & revealing on the album and offer some background info?
Songs For You is the most personal and the one that hits me the hardest. I think it's pretty universal that we all want someone to be there when we are 80; still totally in love with us.
"Songs For You" MP3:
http://k003.kiwi6.com/hotlink/f4hm94637n/songs_for_you.mp3
Stoli: You will be heading on tour to support the album, do you leave behind family/friends/work and how do you stay focused on the shows?
I am fortunate enough that I play music for a living so I don't leave a 9-5 behind. I do leave behind family and friends, but it is just part of the gig. I really don't multi task, which makes staying focused on one thing really easy. I am also a really into the moment type person, so once I hit a stage that is really the only thing happening for me.
Stoli: What can fans expect different from 'Brand New Again' to this new album and how have you grown as a solo artist?
Time will tell, and opinions may vary, but I feel like If I Ever Get Away is just a better album. I think I have really hit my stride in the rootsy, Americana stuff. I also feel like I'm just getting better at making records at this point. Brand New Again is a bit darker as well. I tried to make the new album a bit more hopeful.
Stoli: I am concerned that as the economy gets worse so do conditions for the people. Do you feel like politicians truly know or care about what struggles the people are having and how do you stay positive?
I feel like they do on a local level. Things get a bit gray when you reach the federal level. Most politicians go in with good intentions and just get sucked into the system. For me, I just try to put positive vibes out into the world. The little things matter; saying hello to people; thank you; holding the door for someone. Next time someone is in the wrong lane, realize that you have done the same and rather than laying on the horn, let them cut in. I feel like we've lost a bit of our civility in this country. It might not solve everything, but it seems many people could use some kindness. I still have days where I don't pull it off, but I am trying.
Stoli: What is coming up for Tracy Walton and where can we follow you online & buy the album?
I have a bunch of outdoor gigs this summer including Musikfest 2013 in PA. I really love playing outside and connecting with an audience in that setting. I'm planning a trip to Nashville in the fall, and I'll be doing the East Coast in October.   You can buy the album on iTunes https://itunes.apple.com/us/album/if-i-ever-get-away/id639828851, Amazon,or my favorite tracywalton.bandcamp.com My website www.tracywaltonmusic.com has links to everything as well, including my contact to get on the mailing list. www.facebook.com/tracywaltonmusic, www.twitter.com/tracywaltonjams