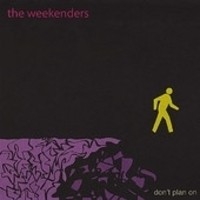 This might offend somebody, but sometimes the truth can hurt some people's feelings; but here's a group that could easily become the next big rock'n'roll band.
"Yankee Easy Sugar" from The Weekender's new album Don't Plan On kicks off the record in a pretty interesting, powerful way. Their sound is almost like a combination of different bands like Queens/Jack White. The latter can be appreciated in the vocal style, a combination between White and Mercury. This energy can be felt as well in "Hard Woman" and "Sixty-Five Dove Street" where there's also some of Cage The Elephant.
"Twenty Armed Men," "Somatic Spirit," and "Don't Plan On" have some smooth, cool guitar riffs, subtle bass lines, and quiet drums. The first two tracks might remind you of Rival Sons. This happens in "Alone," too, where there's also some of The Who.
"Open Lands" is a song full of effects and great bass lines. With the addition of the acoustic guitar along with the production, it's catchy, delusional, psychedelic. It's almost like a trance into a LSD world of rock and roll. A journey to the world where hippies were constantly searching and exploring.
"Penn Station" closes the album in a more relaxing, special way. Once again, ambient effects give the atmosphere of this track a pretty special touch. The vocals pretty much disappear and once again you can find yourself in a trance, a trip to some magical place.
In conclusion, this is one of those bands that have the elements necessary to become a legend in the industry, if they keep moving in the good direction they are currently heading with their sound and continue improving.
URL: https://itunes.apple.com/us/album/dont-plan-on/id540458509
Rating: 4.5/5
Review by RJ Frometa
Edited by Marion Lougheed