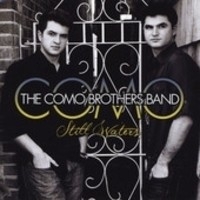 They have already been helping and producing other artists without yet getting into the real big leagues. When a group does that, you can only expect awesomeness, and in the case of these two brothers, they're no exception. When you look at these two guys, surely you may expect some cute boy band, some Cody Simpson/Bieber types; but these folks aren't even close to that.
"Parachute" kicks off their new album, Still Waters, in a powerful, amazing way that immediately will remind you of the Foo Fighters (think DOA, The Pretender). Great and catchy riffs, background vocals in the chorus, and the drums are the perfect ingredients for a track beyond commercial that could easily compete with the mainstream acts out there.
"Bad Karma" has a more reggae, John Mayer/Jack Johnson vibe. If you find yourself suddenly dancing with the rhythm, don't be surprised. It's smooth, almost sexy mixed with some pretty dark lyrics. "Leaving You" has this same energy though driving more towards a Chili Peppers/Bruno Mars sound.
On the other end of the spectrum, "I Want To" has some pretty cool and simple riffs. It's a light, joyful track that showcases these guys' talent. We can hear some new instrumental additions in the chorus that sound like trumpets.
Finally, we find "Can't Be Right," a track like some of what we've been hearing, but with additions of synth that makes this song much more awesome. It has a more Maroon 5/Mayer's subtle touch combined with these brothers' awesome sound.
In conclusion, this is a band that doesn't make you think "Why aren't they signed?" but rather "These guys are too awesome and creative for any label out there." If I were a prophet, or at least to play one, I would predict a really bright future ahead for these two brothers.
URL: https://itunes.apple.com/us/album/still-waters-ep/id627211865
Rating: 4.5/5
Review by RJ Frometa
Edited by Marion Lougheed