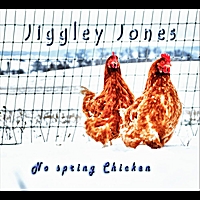 Music doesn't have to be loud and insane in order to be awesome. The concept of rock is slowly changing and that's the case in the sound of acts such as Jiggley Jones, where dirty is changed into clean, and noise disappears for something quite beautiful and inspiring. This can be found in "Baby Blue," the first track from No Spring Chicken, with some melodic vocals and a piano driven symphonic sound. It's epic and it has a vibe that by simply changing the instruments would be a lot like metal. Therefore, up to a point, we can classify this as a "Soft Metal" track.
"Welcome Home" is a track that really sticks and gives credibility to the genre section on the MySpace page, as it is a pretty country and folky, yet interesting song. It takes you back in time to the old days of westerns, with again some cool symphonic elements that give a special touch to the song. Eventually, the softness disappears for something more energetic and powerful, where instruments like a banjo and other typical instruments of this genre make their appearance. The same thing can be felt in "Ain't That Right," although this one starts immediately with the energy and power.
Lastly, we come to "Christmas 365," a track that closes this record in a pretty cool way. This time we find some bells and Christmas-like sounds with the special and great vocals by Jiggley mixed with a more rock, less western sound. Just like it began, the record finishes in an epic and awesome way, especially in the chorus where you can feel a fire lighting up inside you.
In conclusion, for those that aren't into this genre, you might become a believer. Here's an album that even though the genre section says Americana and Country, there's a lot of rock'n'roll vibe in it that will blow your mind in a pretty passive and subtle way.
URL: http://www.cdbaby.com/cd/jiggleyjones
Rating: 4/5
Review by RJ Frometa
Edited by Marion Lougheed