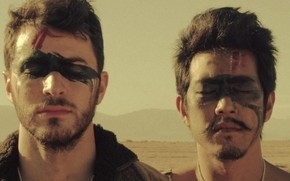 Los Angeles based band Hunter Hunted are excited to release a music video for their song "End of the World." Watch the video at the link below.
To say that they've accomplished a lot in a short amount of time would be an understatement. Since the bands inception in January of 2013, they've been included in Nylon Magazine's "Bands to look out for", Teen Vogue's "Jam's of the year", Billboard Magazines "Scouting Report", and KCRW's "Bands we Love". With standout track "Keep Together" making the rounds on TV shows like The Vampire Diaries and The Real World, the band has performed everywhere from The Conan O'Brien show to SXSW. Four weeks since their Billboard charting debut, the band is keeping busy, recently finishing a US tour with Fitz and the Tantrums followed by a West coast tour with The Mowgli's.
http://www.youtube.com/watch?v=_FglKsL6gRA
"End of the World" is a song from Hunter Hunted's self-released EP, which is currently streaming on SoundCloud.