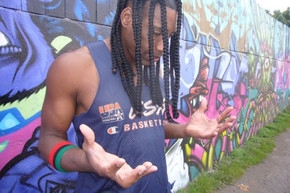 OnPlanetZu is creating a scene all their own in LA, delivering high energy dubstep mixed with punk and hiphop. With a new single "Speakers" out and gaining an onslaught of new fans daily, OnPlanetZu is one of those rare acts that you just can't help but rock out to, tap your foot or raise a metal fist, with MC and songwriter Zu demanding you listen and turn it up. It's like Run DMC for the A.D.D. generation, good times are going to be had, damnit, so you better get on board! We had the chance to get inside Zu's brain for a moment and here's what we learned so far…
SKOPE: It was just a few short years ago that dubstep was an underground subgenre, now, it has pervaded into every aspect of our media and culture. It is mainstream America's new punk rock. What is it that attracted you to dubstep and how did you incorporate it into a hiphop style?
ONPLANETZU: I'M ORIGINALLY A HIP HOP HEAD.   WHAT DREW ME TO DUBSTEP WAS THE BEATS.   I WANTED TO TAKE THE BEATS AND INTENSIFY THE DANCE, NOT WATER IT DOWN, BECAUSE I WANTED TO KEEP THE PEOPLE DANCING AND ENERGIZED.   I LIKE THE WAY THESE BEATS SOUNDED WHEN MIXED WITH AMBIENT, INDUSTRIAL AND MELODIC NOISES FROM A KEYBOARD.   OTHER THAN USING A STRONG HIP HOP TRANSFUSION,   MY MAIN TRICK IS TO NOT DO THE SAME THING OVER AND OVER.   I LIKE TO KEEP MY MUSIC UNPREDICTABLE AND HYPE, TO CATCH PEOPLE OFF GUARD SO THEY DON'T GET BORED WITH THE RHYTHM OR THE SONGS.
SKOPE: Your new single "Speakers" is gaining popularity on YouTube and beyond, with over 100,000 views already. Does that song have any hidden or special meanings?
ONPLANETZU: 'SPEAKERS' IS A MESSAGE TO CORPORATE MUSIC INDUSTRY PEOPLE.   YOU CAN'T TELL ME THIS MUSIC ISN'T BANGING JUST BECAUSE I'M NOT DOING IT IN THE STANDARD MAINSTREAM WAY.   I'VE BEEN TURNED DOWN BY SO MANY LABELS WHO WANTED ME TO RESTRAIN MY MUSIC AND PLAY IT SAFE.   I WANTED TO MAKE A GREAT SONG THAT WAS SO OBNOXIOUS AND SO LOUD THAT THEY HAD TO NOTICE WHAT THEY WERE MISSING.   WE NOW HAVE JUST UNDER 110K VIEWS ON OUR VIDEO AND ITS CLIMBING DAILY.   TAKE THAT, SUCKAS!   LOL   (NO, NONE OF THOSE VIEWS WERE BOUGHT)
SKOPE: How do you translate your electro sound live with real musicians?
ONPLANETZU:   ONPLANETZU DOESN'T LIKE TO CUT CORNERS. WE APPROACH OUR PERFORMANCES SIMILAR TO HOW WE DO WITH BAZERK, MY ROCK BAND-USING LIVE DRUMS, LIVE KEYBOARDS AND DJ MIXING THE ELCTRO SOUNDS.   IT MAKES FOR A HYPE AND FULL EXPERIENCE, WHERE YOU CAN REALLY FEEL THE EXTREMES IN THE MUSIC.  
SKOPE: Where are you guys performing and what are the crowds in LA like for your type of music?
ONPLANETZU:   WE HAVE PERFORMED ALL OVER LOS ANGELES, IN CLUBS AND AT BEACH PARTIES.   THE CROWDS ARE HYPER AND SUPER ECSTATIC LIKE BEING AT A ROCK CONCERT.   THEY GO NUTS!
SKOPE: Where do you see the future of dubstep taking you? What other sounds, styles or genres of music do you incorporate into your songs?
ONPLANETZU: WELL,   I SEE DUBSTEP TAKING ONPLANETZU TO THE NEXT LEVEL, BECAUSE I'M PUSHING EVERY DUBSTEP ENVELOPE I CAN.   I GUESS THE NEXT LEVEL WOULD MEAN A DIFFERENT SOUND OF DUBSTEP THAT NOBODY'S HEARD BEFORE. HOW GREAT WOULD THAT BE IF OTHER ARTISTS START COPYING ME! I'M TAKING DNA SAMPLES OF ROCK, HIP HOP, PUNK ROCK AND METAL, THEN STIRRING THEM ALL TOGETHER. EVEN I NEVER KNOW WHATS GOING TO HAPPEN.   I JUST KNOW HOW IT SOUNDS AND FEELS WHEN ITS COMPLETED.
SKOPE: I felt a kindred spirit of Run DMC and possibly Busta Rhymes on the track. Who are some of your influences as a rapper/MC?
ONPLANETZU: YOU'RE RIGHT ON THAT.   MY MOST KINDRED INFLUENCES DEFINITELY ARE BUSTA RHYMES, OLD DIRTY BASTARD, FLAVA FLAV, KRS ONE, CHUCK D, DE LA SOUL, A TRIBE CALLED QUEST, OUTKAST, MASTA ACE, AND THE LIST GOES ON…JUST TO NAME A FEW.
"Speakers" On Planet Zu
http://youtu.be/GQgHKwX18ec
SKOPE: I read you have an upcoming album. Can you leak anything to us about it?
ONPLANETZU: YES.   THE ALBUM IS CALLED, "AMERICAN MADE MONSTER."   ITS ABOUT ONE ANGRY DUBSTEP ARTIST WHO IS CHALLENGING CURRENT PERCEPTIONS OF WHAT DUBSTEP AND GENRE MEAN.   I FEEL PEOPLE WANT TO DANCE AND THEY DON'T WANT TO JUST BUY ONE ALBUM WITH ONE SINGLE ON IT.   THEY WANT ALBUMS WITH LOTS OF SONGS THAT THEY CAN KEEP DANCING TO, LIKE BACK IN THE DAY WHEN PRINCE, DE LA SOUL AND LL COOL JAY WERE PUTTING RECORDS OUT.
SKOPE: Where can people grab your songs, including "Speakers"?
ONPLANETZU: SOON ONPLANETZU WILL BE AVAILABLE ALL OVER THE INTERNET.   WE ARE JUST WRAPPING UP OUR LAST SONG AND GETTING OUR STREET TEAM TOGETHER FOR WORLD-WIDE PROMOTION.   WE ARE TARGETING EARLY SUMMER TO OPEN THE FLOOD GATES, AT WHICH POINT OUR MUSIC WILL BE AVAILABLE ON ALL THE USUAL SITES.
SKOPE: You are working with Masterfader, as well as others. Who is Masterfader and how did you two end up collaborating?
ONPLANETZU: MASTERFADER IS PRODUCER CORI JACOBS (AKA DJ FADER).   HE'S WORKED WITH BIG NAMES LIKE PUSSYCAT DOLLS, SLY STONE, LAUREN HILL, AND MANY OTHER PLATINUM ARTISTS.   WE WERE AT VENICE BEACH SELLING OUR OWN MUSIC, AND RAN INTO EACH OTHER. WE STARTED TALKING AND DETERMINED TO WORK TOGETHER ON SOMETHING BANANAZ.   IT CONTINUES TO PAY OFF.
SKOPE: You've performed as OPZ with everyone from Skrillex to Prince to Ludacris, which in itself is a pretty amazing feat, do you think you'll end up touring with anyone sometime soon?
ONPLANETZU: YES! SOME OF THE ARTISTS LISTED WERE PERFORMED WITH MY ROCK BAND, BAZERK, BUT MY DOORS ARE OPEN TO PERFORM WITH ANY ARTIST.     CURRENTLY ONPLANETZU HAS PERFORMED WITH SKRILLEX, NERO, BLACKBURNER, TFI89, DEATH HOUSE, AND MORE.   I LOVE TO TOUR.   AFTER OUR ALBUM COMES OUT, WE WILL SCHEDULE A WEST COAST TOUR. WHO KNOWS WHERE THAT WILL LEAD?
SKOPE: What's on the horizon for On Planet Zu?
ONPLANETZU: WE'RE LOOKING FORWARD TO OUR NEW ALBUM.   IT IS A FANTASTIC ALBUM WITH SOUNDS YOUR EARS HAVE DEFINITELY NOT HEARD BEFORE.   WE WILL ADD MORE SHOWS AND VIDEOS, AND ARE REALLY EXCITED THAT SO MANY ARTISTS ARE CONTACTING US WITH REQUESTS TO COLLABORATE ON MUSIC AND PERFORMANCES.   I'M TRYING TO GET OUTTA MY MAMA'S BASEMENT,   AND GET THAT SKRILLEX MONEY! YEAH.
Be sure you check out the MUST SEE / MUST HEAR OnPlanetZu, you won't be disappointed!
www.facebook.com/onplanetzu
www.facebook.com/zuthagreatone
www.reverbnation.com/onplanetzu
Douglas Garnett – douglas.garnett@gmail.com – http://digdugdisaster.com