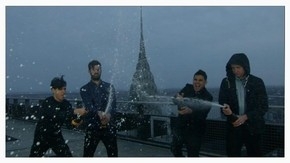 As Vampire Weekend gear up for the release of their highly anticipated third studio album Modern Vampires of the City, the band have unveiled a lyrical video for brand new track "Ya Hey," directed by Greg Brunkalla.
Check out the video here:
https://www.youtube.com/watch?v=i-BznQE6B8U
Already hailed in a 4.5 star Rolling Stone lead review raving "dark but beautiful… Vampire Weekend have gotten better at just about everything they do… pushing into awesome new directions," Modern Vampires of the City is scheduled for release May 14 on XL Recordings. The new album is the band's first full length collection of new material since its gold-certified sophomore album Contra, which debuted at #1 on the Billboard album chart upon its 2010 release.