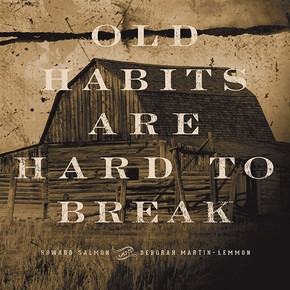 Hello world, it is finally April 2 and we can kiss that winter goodbye. Very exciting news coming from The IHeartRadio Music Festival. The iHeartRadio Music Festival will return to the MGM Grand in Las Vegas on September 20 and 21, 2013. Even better is that Macy's is running a campaign designed to spotlight America's emerging musicians. As you know I am all for any venue or medium that allows the world to see new & exciting music! Today I am so excited to talk with Deborah Martin-Lemmon who is releasing 'Old Habits Are Hard To Break' with Howard Salmon. Deborah & Howard came together to create country music that is authentic and American. I have heard the album and it is a classic! Join me as we chat with Deborah on everything from her musical bond with Howard, her love for country music, creating this album, and so much more!
Stoli: Where are we talking from today and are you glad winter is over?
Currently I am in Florida and the weather is a little cool here still but warming up.   I enjoy the seasons and actually look forward to winter for the peace and tranquility that comes with winter
Stoli: How excited are you to release 'Old Habits Are Hard To Break' and how have you beem getting the word out?
I am very excited to get this album out there. Since completing this project I have been on the road doing pre-release events, some interviews, and just meeting lots of folks out there.   There are still a couple of actual release events scheduled, and more interviews that will be made available as a podcast at the dreamingedge.com website.
http://dreamingedge.com/album/old-habits-are-hard-to-break/
Stoli: Please give us an insight into how you 2 came together to cretae this collection of music?
Howard and I have known each other for many years.   We met when Howard joined a choir that I was directing. The two of us hit it off immediately and always joked about making an album together. Years of keeping in touch and sharing the normal ups and downs of life helped build a foundation for the songs I wrote.
Stoli: I just listened to the album samples on your site http://dreamingedge.com and I love it. Where did you record and write and how long did the process take?
I wrote and recorded the original tracks in Redding, Calif. at After Hours Recorders.   The rest of the time was spent coordinating schedules of all the other professional musicians who are on this project.
Stoli: What is the scene & atmosphere like in the Dreaming Edge Studio and will this be the first of many releases?
Dreaming Edge Studio is located in a little cottage in the country – you can hear frogs by the pond out back and occasionally wind whistling through the trees – the studio reflects this ambient and the recording space is filled with instruments and artifacts collected from my travels.     Absolutely there will be many more releases from The Dreaming Edge . . .   (there are currently 6 projects in the works, including a follow-up to Old Habits Are Hard To Break)
Stoli: I love the song "Baby Don't Leave Me Now." Was that song written based on real life experiences?
Not from my personal experience but certainly from the real life experiences shared to me by friends over coffee.
Stoli: Will there be a music video from one of the tracks and if so what song & what is your vision?
I would love to have a video of the song Take Me Down (To The Waters Edge) and I envision a gathering at the river for a good old fashioned baptism in the sultry south.
Stoli: Music genres these days are all sharing and blurring the lines of definition. This album is authentic country, was that your intention or did that just happen?
My goal was to create music reflecting my childhood roots.
Stoli: Will you two be heading out on a tour to play the album live for fans?
It is our intent to do so.   We have several invitations and once the events are booked the schedule will be posted at the dreamingedge.com website.
Stoli: There are many Americans out there that are hurting. How do you feel about the USA today and how can music help the people relieve stress?
I think the USA is a hopeful place, where individuals can still fulfill their dreams. I think music inspires people and there is a lot of research out there that music supports wellness.   My songs are intended to inspire people and support this hopeful vision.
Stoli: What is coming up for you both and where can we follow you online?
We will both continue working on music projects, and you can follow us on facebook, twitter, and http://dreamingedge.com.