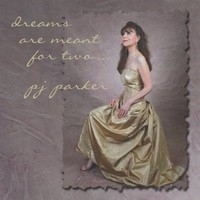 There is something compelling and haunting about PJ Parker's single "Dreams Are Meant For Two." Her expressive voice sings along to a piano score written by her late father, Thomas E. Parker. The piano is played by Vinnie Ruggieri.
Through the first part of the track, the piano is slow and soothing, with a touch of the melancholy. During this time, Parker's soft but resonant voice unfolds layers of emotions: "I've had my share of dreams / Romance I've wandered through."
The lyrics are introspective and nostalgic. A sense of poetic symmetry is reached, as Parker's voice gives music to the words: "dreams are meant for two." The lyrics were written by Parker as well.
I was not too surprised to learn that the piano score was written in the 1940's music of romance that has possessed such a timeless quality. It's the sort of song over which our grandparents might have sparked their courtship; yet it could also be a song which people of today might enjoy with their special someone: "Come spend your life with me / As long as we can be / 'Cause dreams are meant for two."
https://soundcloud.com/pjb-creatives/dreams-are-meant-for-two
The piano interludes provide some aural charm with their graceful, butterfly-like floating of keys.
Aside from serving as the title track for Parker's third album, "Dreams Are Meant For Two" will see its motion picture debut at the Garden State Film Festival in Asbury Park, New Jersey.
The film in question is called West End, written by Joe Basile. It involves an undercover FBI agent stalking the Jersey Shore in effort to solve (or possibly avenge) the mob-ordered killing of his father.
West End boasts an acting cast with such monster credits as Goodfellas, Pulp Fiction, and The Sopranos. For a sneak preview, head to: www.westendthemovie.com
For more of PJ Parker's work, visit: http://www.pjparker.net/Music/music.html
Ray Cavanaugh – owleyesgatsby@yahoo.com