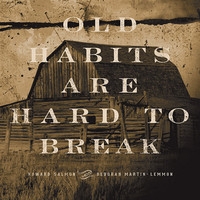 Howard Salmon and Deborah Martin-Lemmon crossed paths in the military choir. Both having deep country music roots, they proceeded to collaborate. And we now have the album Old Habits Are Hard to Break, which includes contributions from several country music vets (fiddler Scott Joss, drummer Keith Edwards, bassist Bruce Turgon, and guitarist Ben Haggard, among others).
As soon as the opening track gets rollin', it becomes quickly apparent that this album is mixed & mastered with impeccable care. There's fiddle music that soars in its backwoods ecstasy. The lyrics, however, may seem slightly less than joyful: "Will you walk upon my grave? / Tell me now / Tell me now"
Curiously, these lyrics actually seem to be sung in high spirits. Maybe that's just how country folk are?
The ensuing track, "One of these Days," is more slow & somber. Mr. Salmon has a voice as manly as John Wayne's jaw. I guess real men can pour their hearts out, too: "One of these days…I'll get over you."
Track 3, "The Message," is an intriguing tune, on the bluesy side.
On track 5, the album's title track, kudos to the lyrics: "I walk through the house, in the hopes that you're there / Old habits are hard to break."
Excellent. Paints such a picture of loneliness. The instrumental accompaniment is quite perfect here. Have a listen. Country desolation at its best. I am especially a fan of Martin-Lemmon's vocals towards the end of this song. Impassioned and genuine, not to mention harmonious.
As a man's & woman's voice unite for the lyrics on track 6, "Baby Don't Leave me Now," I get this funny impression that we have some wild country swingers yearning for the return of a third party! The CL Casual Encounters page might have a fine theme song.
Track 7, "Let me Take your Blues Away" is good country title, and the accompanying guitar score is very soulful.
Compliments also go to the guitarist for the solo on track 9, "You Give me a Reason." This is a solo with verve, pop, and emotion. I feel like I'm hoppin' a freight train to meet some old flame from the Ozarks.   She doesn't exist, but I might hop the train anyway. This solo has bite!
As advertised, this album stirs up such images as "a solitary truck driver wanting nothing more than to get back home." Man, it simply can't get more American than that!
Old Habits Are Hard to Break will come out on April 2nd. Be sure to visit: http://dreamingedge.com/album/old-habits/
 
Ray Cavanaugh – owleyesgatsby@yahoo.com