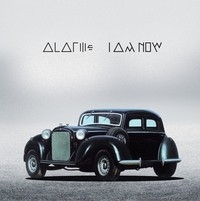 ALARMs is the electronica brainchild of songwriter Daniel Kunz, who enlisted the help of Utah producer Nate Pyfer. Still seeking an added element, Kunz — who had been recruiting talent in Boise, Idaho — instead found what he wanted in Maxim Klymenko, a DJ from the Ukraine.
Such global interconnectedness gave birth to the EP I Am Now.
Track 1, "Hold My Head," begins slow and mysterious, but quickly changes into something more kinetic. The vocals are pretty slick, and the lyrics display a fine pop sensibility. The following line is sung in catchy fashion: "I love you so damn much….But is that enough?"
Track 2, "Darkly Dreaming," is another fine piece of pop-electronica. The chorus is very well done, as multiple voices unite to proclaim: "I am a violent man." This could be a tad ominous, I reckon. At the same time, there really does seem something almost playful and bouncy about the synthesizer. Then again, therapists these days say never to underestimate anyone.
Ah yeah: track 3, "The Present is Never Anxious," has this hip guitar riff that blends perfectly with the percussions. Then comes a female voice, which alternates well with the male vocals. Great background synthesizers as well. The female voice reappears, this time for spoken word. Poetry perhaps? It's all a bit too metaphysical for my personal tastes, but her voice is pretty hot. Is she Ukrainian?
[youtube zAaljQWyau0]
http://youtube.com/watch?v=zAaljQWyau0
Track 4, "The Street Game," hovers pretty far on the rock side of electronica. The rhythm guitar riffs are rather mellifluous. And it has finally occurred to me that the lead vocalist has some pretty considerable pipes. One possible criticism is that I'm not sure the track really needs its first ten seconds.
Track 5, "Time," is rather spiritual in a dance club sense of the word: "You're a ghost now / So you can lose yourself." Our soul-searching speakers sound a tad trippy. Have the x-pills been swiped for ketamine?
Whatever substance(s) involved, it's all-in-all a good EP.
Songs can be purchased at: https://itunes.apple.com/us/album/i-am-now-ep/id601998302
Or visit: https://soundcloud.com/#itsalarms
 
Ray Cavanaugh – owleyesgatsby@yahoo.com