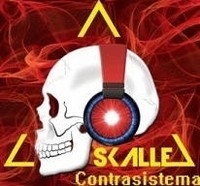 Skalle hails from Montery Mexico and just released Contrasistema in 2012. This duo featuring David Adrián (acoustic drums, producer) Carlos X; (MC) has received many impressive accolades during their tenure as an artist.
"Contrasistema " (2012) is their debut release and it has much to commend it. Admittedly, there is a whole lot of variety to these arrangements and performances. First: AdriánCarlos impressive musical persona and signature sound delivers rock solid playing and production expertise like a well oiled machine. This is testament to hundreds of hours of rehearsal/writing/programming time no doubt. Second: Skalle's overall sound hit the mark remarkably well. Both have the attributes required of an effective Singer/Songwriter/Composer. Third: his amazing songwriting and Production expertise are as good as it gets. All songs are a skillful combination of modern Ambient-pop with hints of Chill and Electronic Music and Rock popular in the 80's. Music will remind you of Thy Light, Ryan Farish, Sacred Spirit and Delirium. There's also a unique quality to this catalogue that breaks the mold when compared to the mundane pop-rock that's been filling the airwaves lately. What am I trying to say — well let m start by saying there is nothing fake and superficial about Skalle. Not every square inch is filled with musical ambience delivered under duress — but musical space this allows the music to breathe on its own with melodic passion that cannot be faked. Equally as impressive is how marketable this 11 song catalogue truly is. It covers so much ground and despite this it manages to not spread itself to thin across to many lines — nice touch. I've always said if you can play it a party, then it's marketable. The music is extremely marketable – with a fresh sound that is passionate and entertaining very much like Skalle. All 12 tracks will genuinely lift your spirits and sooth the body, soul and mind unlike most music you hear on the radio these days.
Let me go on record by saying this debut release by Skalle has no solid weaknesses that I can hear. Contrasistema delivers everything. Skalle possesses a musical personality and fresh sounding music portfolio gives modern music a well needed shot in the arm.  
By Heather Savage edited by Mindy MCcall