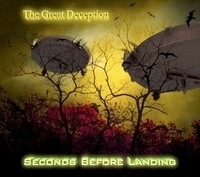 Seconds Before Landing", the ambient rock collective, formed by musician and composer John Crispino, has released its first full length album. The 14 track concept album, entitled "The Great Deception" features original music from Crispino, with a number of guest talents, from notable musical followings. "King Crimsons" Trey Gunn appears and plays Warr Guitar on several tracks. Also appearing is legendary bassist, Tim Bogert, from Beck Bogert & Appice, Cactus, and Vanilla Fudge.
Locale —Pittsburgh, PENN
URL – http://www.secondsbeforelanding.com/
Released 26 January 2013   John Crispino, composer, drums, percussion,vocals, midi keys, effects…Trey Gunn, Warr Guitar… Tim Bogert, Bass, "They're All Around You"… Maurice Witkowski, acoustic and rhythm guitar, and "all guitar parts" on "They're All Around You"…. Steve Schuffert, Lead Guitar… J.D. Garrison, Bass Guitar… Guy Bar Tor, Bass on "My Time To Go", "Alice Springs"… Asaf Rodeh, front end guitar on "Elmendorf"… Kati O'Toole, lead vocal on "My Time To Go"… Vanessa Campagna & Carrie Marie Jackson, female background vocals… Lior, Trumpet. Jamie Peck, piano on "Alice Springs", and last but certainly not least, MIchele Cricco, lead and rhythm guitars on "Mikey Get Your Accordion". Album Mastered by 2 time Grammy Nominee, and "Pink Floyd" engineer, Andy Jackson.
"The Great Deception" is one release that certainly doesn't disappoint. This is one artist that brings to the table effective songwriting via a very original sounding musical delivery. This meshed with a one in a million Spaced out Ambient-Rock sound makes for a very effective combination. "The Great Deception" even touches on tripped out-psychedelic-chill-dub, almost as if you're listening to a Science Fiction Movie soundtrack. All songs are wonderfully simple but masterful in their overall arrangements. Music reminded me of a cross between King Crimson, Emerson, Praga Khan, Apollo 440, Kevorkian Death Circle and Isis to Neurosis.   This CD is quite entertaining overall with an amazing amount of drama and sheer   unpredictability. You never know what's waiting for you around the next corer. The overall score and writing is quite appealing via well-crafted pieces and top tiered sampling and sonic touches. However there is a heavy dose of Hard Progressive Rock as well.
Favorite pieces are My Time to Go, I'm All Alone, Welcome to the Future, Solitary Man.
There's plenty of mystery and mind blowing moments to go around on "The Great Deception which gives Crispino and company an amazing feel in his attempt to connect with a cult fanbase.
Seconds Before Landing has proven themselves with this latest release. This is not his first release as he is clearly an established talent around the Pittsburgh area. Crispino is clearly capable songwriter, artist and composer.   I must admit "The Great Deception" sucked me in like a powerful drug or Black Hole and refused to let go long after the CD was over. This usually indicates he is something special about the artist or band in question – thus deserving of praise, recognition and musical fame at the international level.
CD BABY http://www.cdbaby.com/Artist/SecondsBeforeLanding
FACEBOOK – https://www.facebook.com/pages/Seconds-Before-Landing/188237661255930
by Drew Blackwell edited by Janne Zawa
Overall Rating: 8/10
Review comments: jannezawa@gmail.com