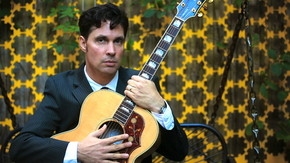 Tom Shaner is please to announce the release of the video for "Forever Drug," off his first full length album "Ghost Songs, Waltzes, and rock & roll," out now on Mother West.
[youtube Ahs3DAs8vwQ ]
Shot in front of Manhattan's Flat Iron building and the Lower East Side, the new Tom Shaner video "Forever Drug," is the 4th video from "ghost songs, waltzes and rock & roll,"   The track is catchy, soulful, textured, rootsy, yet urban.The video, directed by Shaner and shot by Sam Henriques, features Tom, actress Lauren Francesca and Todd Weeks. In "Forever Drug" we see a couple showing different faces and styles, masks, and moods to each other. Sometimes connecting and having fun, or sometimes not appreciating what may be a bad romantic match. One man tries to dance it away, but enlightenment seems fleeting as he walks into walls.