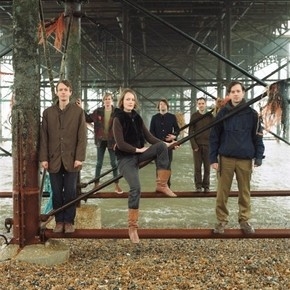 In 2013, ten years on from their debut album, British Sea Power are hitting their stride. New album Machineries Of Joy is a creative high, a superbly composed, multi-stylistic tour de force. Beautifully mechanised rhythms sits alongside wind-blasted Brontë-rock cinematics. Brain-bent garage thrash hurtles in.
[youtube DHUes0dGjUI]
Machineries Of Joy is British Sea Power's fifth album – seventh including film soundtracks. The album was worked up in the Berwyn mountains in north Wales and recorded in Brighton with the engineer Dan Swift, produced by British Sea Power. The album was mixed by Ken Thomas in rural Hampshire and in Castleford in West Yorkshire. Ken has previously worked with musicians including David Bowie, Wire, Queen, PiL and Sigur Ros.