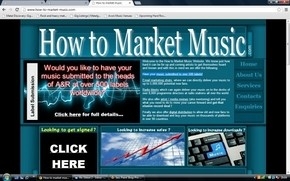 Yes you did read it right. The folks at www.how-to-market-music.com have just completed months of work culminating in over 500 labels worldwide agreeing to have a monthly "Artists spotlight" of just 20 artists delivered to their heads of A&R for consideration of adding new bands / artists to their rosters.
The cost for inclusion is only $75, quite literally just cents per label.
Inclusion gets your bio, photos, music and videos on to the desks of people who can change your life forever AND they will get your direct contact information too. These are people who you would never usually reach and who would never usually hear your music.
The CEO of HTMM told us, "these labels run from smaller independents right up to huge majors and all are looking for artists and bands. The other great thing is these are the types of people that can open doors for you. When we previously ran this service privately, the head of A&R for Roadrunner Records in New York was on the phone within hours to the head of A&R in the UK and within weeks, he was at the show of the band we had introduced — that's the kind of results this can bring".
Head to www.how-to-market-music.com and click on the "Have your music submitted to over 500 labels" link. This really could be the best $75 you ever spent on your music career.