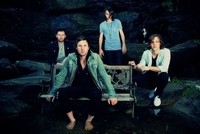 The Jefferson is a Pop/Rock band out of Australia, who just released their first single, "No Surprise" through Spectra Records: A division of Spectra Music Group.
Their album can be found at www.thejeffersonband.com. Jefferson offers a fresh sound that is reminiscent of classic rock, without sounding just the same as everything else around that emulates this model, but while retaining the flavor of traditional rock music. Jefferson offers a fun listening experience that combines the soulful sounds of rock and roll with the upbeat tempo and excitement of pop music. The melodic vocals on Jefferson's tracks are one of the main drawing points, drawing the listener in and whisking them away to the place they were in when the song was written and encourages you to let the world fall away around you in order to enjoy the music.
The Jefferson is the kind of band that you enjoy from the first note and continue to think about after the music is over.
Rating; 9/10
Additional Jefferson Links:
I TUNES: https://itunes.apple.com/au/album/no-surprise-single/id592900453
YOU TUBE — http://www.youtube.com/watch?v=L1tKN_aoiSM
FACEBOOK: https://www.facebook.com/thejeffersonband
TWITTER: https://twitter.com/jeffersonaus
Review by Sarah Scharnwber