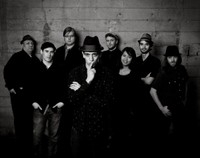 Who doesn't like funk? I'd bet not many hands go up in the air. I mean, while funk and jazz might not be your first and foremost musical choice, most people can get into the funky groove and really enjoy well written and performed music in that genre. Well, this is all of the above. It's an exceptional disc that's a very entertaining listening experience. The horn section is really a big part of the sound. It lends sort of a classic sound to the disc, begging comparisons to the world famous Tower of Power horns. While the main focus of this genre of music is generally the instrumental work, that doesn't mean that the vocals fall behind here. They never feel like an afterthought. The vocal work is great. These guys manage to move between the mellower sounds and the more rocking ones. They go a long way towards proving that funk is still alive and well. This is an album that I just can't recommend enough.
Label: Spectra Jazz
http://www.thebrownedition.com
It's awesome, with not a single thing to pull it down. I'd consider this to be essential and a "must have" for just about any music fan.
More The Brown Edition Links
SOUNDSCLOUD: http://soundcloud.com/spectra-jazz/the-brown-edition-epiphany
EPK: http://www.sonicbids.com/2/EPK/?epk_id=337548
REVERBNATION: http://www.reverbnation.com/thebrownedition
Official Rating: 10/10
Review by Steve Rafferty
Review Comments: indiemindymccall@gmail.com